Are you looking for our bookstore? At this time, Homebound Publications' website no longer features an e-store. This may change in the coming years but, for now, we encourage you to visit your favorite local indie bookstores. We recently expanded our distribution to help make our titles a little easier to find while you're out and about in your community. Our books are also available in print, ebook and audio formats on Barnes & Noble, Amazon, iTunes, Audible, and so forth should you prefer to shop there. Below you can browse through our library. Each book's page features links to well-known stores that carry our offerings.
Forthcoming Offerings
Our Upcoming Autumn Titles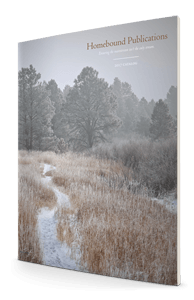 Our Latest Catalog
Browse through the entire library of Homebound Publications and its imprints, Hiraeth Press and Owl House Books, free on issuu. Are you a retailer? Contact us and we'll send you a print edition.
Collectively through our imprints, we publish between fifteen to twenty books each year and we have almost seventy-five titles distributed worldwide. Over the years, our authors have received dozens of awards including: Foreword Reviews' Book of the Year, Nautilus Book Awards, Benjamin Franklin Book Awards, and Saltire Literary Awards. Highly-respected among bookstores, readers, and authors alike, Homebound Publications has a proven devotion to quality, originality, and integrity.
Our Library
All Our Titles Currently in Print
Hiraeth Press Titles
The Offerings of our Imprint Hiraeth Press
Coming Soon!
(Excuse our appearance. We're Updating our Site.)