Visit our Bookstore
At Homebound Publications, we like to ensure that the mainstream isn't the only stream. We have over 50 titles in print. Come browse our offerings to find new additions to your home library.
Browse Now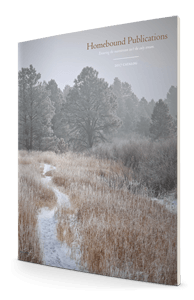 Our Latest Catalog
Browse through the entire library of Homebound Publications and its imprints, Hiraeth Press and Owl House Books, free on issuu. Are you a retailer? Contact us and we'll send you a print edition.
Collectively through our imprints, we publish between fifteen to twenty books each year and we have almost seventy-five titles distributed worldwide. Over the years, our authors have received dozens of awards including: Foreword Reviews' Book of the Year, Nautilus Book Awards, Benjamin Franklin Book Awards, and Saltire Literary Awards. Highly-respected among bookstores, readers, and authors alike, Homebound Publications has a proven devotion to quality, originality, and integrity.
Our Library
All Our Titles Currently in Print
Hiraeth Press Titles
The Offerings of our Imprint Hiraeth Press