Bookstore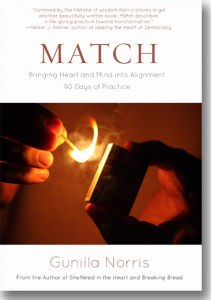 Bringing Heart and Will into Alignment – 90 Days of Practice
Release Date: November 11, 2014
When you pre-order through our bookstore, we'll ship your order on November 1st—a full two weeks in advance!
Pre-order Now | List Price: $16.95 (pbk)
"Looking for a spiritual practice simple enough to fit a busy life, yet deep enough to help you grow? 'For ninety consecutive days', writes Gunilla Norris, 'light a match with a purpose, a feeling or a desire in mind', and if you miss a day, start the count again. That daily moment of persistent attentiveness to whatever is calling you from within will kindle new warmth, new light, new life. It's simple—but it's the simplicity on the other side of complexity. Illumined by the lifetime of wisdom Norris shares in yet another beautifully written book, "Match" describes a life-giving practice toward transformation."
—Parker J. Palmer, author of Healing the Heart of Democracy, A Hidden Wholeness, and Let Your Life Speak