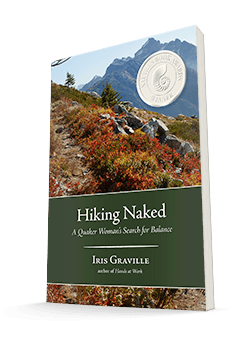 Hiking Naked
A Quaker Woman's Search for Balance
by Iris Graville
978-1-938846-84-7 | 5.5 x 8.5 | 260pgs
Overview
Knocked off her feet after twenty years in public health nursing, Iris Graville quit her job and convinced her husband and their thirteen-year-old twin son and daughter to move to Stehekin, a remote mountain village in Washington State's North Cascades. They sought adventure; she yearned for the quiet and respite of this community of eighty-five residents accessible only by boat, float plane, or hiking. Hiking Naked chronicles Graville's journey through questions about work and calling as well as how she coped with ordering groceries by mail, black bears outside her kitchen window, a forest fire that threatened the valley, and a flood that left her and her family stranded for three days.
Praise for Hiking Naked
This memoir of "seeking, not escaping" speaks to the hearts of those longing to be free from modern constraints—work, money, ambition, stress of all sorts—to find their bliss, wherever it might be. For Graville, in 1993, that means listening to the urgings of her heart and leaving her job as a public health nurse in Bellingham, WA, and moving her family to Stehekin, a remote village near North Cascades National Park. What resonates throughout is her deep connection to Quakerism; here a gentle, quiet spirituality that encourages places and periods of silence rather than imposing rigid external demands. As her husband and children agree to this experiment, over the two years, all come in their own way to say, "I thought I knew about powerlessness," only to find that the rigors of living life simply require letting go of much more than they ever could have imagined. Graville concludes that "Far from feeling deprived, we found over and over again the riches of attending to what's truly important." VERDICT: Reading this expressive and beautifully written memoir is to experience one's own quest toward self-discovery.
–Library Journal, *Starred Review!
In this lovely memoir of a time in transition, Iris Graville looks at the themes of what it means to unearth and follow an inner calling while yet responding to the demands of daily living and providing. In her own words she "attends to what is important", stripping down to a naked awareness that "the smallest touch, the briefest contact, the quietest diligence can make a difference – can change the course of a river." The reader will experience the difficulties and joys of living in the wilds in the remote village of Stehekin and will perhaps undergo with Iris the rich and nourishing journey of coming to clearness and balance.
–Gunilla Norris, author of Sheltered in the Heart
"Graville transforms fantasy into fact in Hiking Naked. Set in the Pacific Northwest, this extraordinary memoir embraces nature, and how the natural world fortifies the human spirit. We long to be something greater than we once were, and Graville teaches us how to hike from a rugged, immersive past into a future of bountiful nature, a future where all senses are experienced, adored, and permanent. Love this book, and cherish every soulful element of life, fulfilled."
–Andrew Jarvis, award-winning author of Landslide
"Hiking Naked shows us the possibilities that appear if we take the risk."
–Margery Post Abbott, author of To Be Broken and Tender
"Narrated with candor and compassion, Hiking Naked reveals as much about marriage, family, and community, as it does about the meaning of vocation."
–Scott Russell Sanders, author of A Private History of Awe
"This memoir is chock-full of heartfelt reflection and lyrical prose, wisdom and grace, humor and humility. It is a pure delight to read."
–Ana Maria Spagna, author of Potluck: Community on the Edge of Wilderness
"Iris writes with directness and honesty about her journey of self-reinvention. The snowy peaks sparkle around her, and her prose sparkles too, with accuracy, honesty, and a warm, willing heart."
–David Oates, author of The Heron Place and What We Love Will Save Us
"In a tale of courage and discernment, Iris Graville invites her readers to journey with her as she learns lessons about friendship and what is essential while wrestling with how to understand her call to serve, to work and to create."
–Shannon Huffman Polson, author of North of Hope: A Daughter's Arctic Journey
"Reading this calm, contemplative, and altogether lovely book is a bit like taking a long walk in the North Cascades on a late Spring day when the subalpine forest is starting to wake up, and you can sense sap rising in the trees. It is on such a hike that you can look into yourself and maybe hear a still, small voice. Listen to it."
–Mark Rozema, award-winning author of Road Trip
"For anyone yearning to change the way they live and work, Hiking Naked offers one woman's experience of following God's guidance and her own deepest wisdom, even in the midst of uncertainty and loss."
–Eileen Flanagan, author of Renewable: One Woman's Search for Simplicity, Faithfulness, and Hope
"In candid, lyrical prose, Iris Graville offers a story of optimism in the midst of disillusionment. Her courageous spirit and unforgettable experiences may just inspire you to embark upon an adventure of your own."
–Melissa Hart, author of Wild Within
"As I navigate my own way through life, Hiking Naked gives me a sense of companionship with its amazing example of faithful living."
–Kathy Runyan, Co-Director, Ben Lomond Quaker Center
"I am grateful for Iris Graville's naked memoir—such revealing stories as herein contained provide light and hope—both much needed in a time such as ours."
–J. Brent Bill, Quaker minister, author of Holy Silence: The Gift of Quaker Spirituality
"We need more stories like this, that reveal how we all can be guided by holy wisdom from within, if we take the time to listen and have the courage to follow where it leads."
–Marcelle Martin, author of Our Life is Love: The Quaker Spiritual Journey
"Reading this tender, honest, down-to-earth memoir is like spending time with your wisest best friend."
–Tarn Wilson, author of The Slow Farm
Iris Graville
Author
Iris Graville writes creative nonfiction from her home on Lopez Island, WA. She holds an MFA in writing from the Northwest Institute of Literary Arts and is the publisher of SHARK REEF Literary Magazine. Iris' first book, Hands at Work, received several accolades, including a Nautilus Book Award. Her memoir, Hiking Naked—A Quaker Woman's Search for Balance, was a finalist in the 2015 Pacific Northwest Writers Association Literary Contest and is forthcoming from Homebound Publications in 2017.