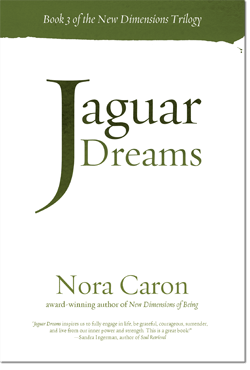 Jaguar Dreams
Book 3 of The New Dimensions Trilogy
by Nora Caron
Finalist in the 2015 Next Generation Indie Book Awards
Overview 
Jaguar Dreams, the final book in The New Dimensions Trilogy, finds Lucina in Guatemala searching for her lover who has run away. When she discovers the news that he is somewhere deep in the Petén jungle, Lucina hires an intimidating mysterious older guide named Alejandro who forces her to face more fears than she ever imagined she could handle. It is on dangerous and frightening jungle trails that Lucina at last surrenders to the greater powers that are guiding her life. In a dramatic scene, she encounters a deadly predator and transforms into a new woman, one who understands the world in a completely different light.
 Advance Reviews
"…If it's an epic adventure you seek, which opens with the promise of finding a lost lover and concludes with something far greater, then Jaguar Dreams will prove your novel of choice!"
—D. Donovan the eBook Reviewer of Midwest Book Review
"I read Jaguar Dreams in one sitting, engrossed in cheering the book's heroine to transform her fears into courage and find her voice and power. Women need books like this to inspire us to deepen our inner strength and gracefully surrender to the unknown"
—HeatherAsh Amara, author of Warrior Goddess Training and The Toltec Path of Transformation: Embracing the Four Elements of Change
"Once I started reading Jaguar Dreams I could not put it down! Nora Caron brilliantly weaves together a beautifully written, engaging, and inspiring story with powerful spiritual wisdom. Jaguar Dreams inspires us to fully engage in life, be grateful, courageous, surrender, and live from our inner power and strength. This is a great book!"
—Sandra Ingerman, author of Soul Retrieval and Medicine for the Earth
"Nora Caron has produced a gripping sequel to her first two books chronicling the exploits of heroine Lucina, this time taking her into the jungles of Guatemala. Filled with fascinating details and surprising plot twists, the heroine is transformed by her quest for her missing lover. We are entertained, dazzled, and inspired by Caron's touching writing"
—Jim PathFinder Ewing, author of Reiki Shamanism and Dreams of the Reiki Shaman
"Jaguar Dreams is full of wonderful Toltec teachings that unfailingly lead the book's heroine to greater depths of awareness and inner strength through her adventure into Guatemala and into herself"
—Diana Adkins, author of How to Potty Train Your Brain: Toltec Tools and Wisdom
"Shamans believe that we are one with everything; the plants, the waters, the earth, and the animals. Jaguar Dreams is the story of a search for that Oneness. So often when we begin a search we think we are looking for a particular thing, and we end up finding something much more valuable: ourselves. When you embark on this journey with Lucina as she explores the sacred, encountering spirit animals and other teachers that help her answer her deepest queries and provide her with life-changing support and healing, don't be surprised if you sense changes occurring within yourself as well"
—Colleen Deatsman, author of The Hollow Bone: A Field Guide to Shamanism and Seeing in the Dark: Claim Your Own Shamanic Power Now and in the Coming Age
Format: Paperback | ISBN 978-1938846229  | 200 Pages | Visionary Fiction
Nora Caron
Author
After struggling through the academic system, Nora Caron realized that her true calling was to help people live from their hearts and explore the world through the eyes of their spirit. She has a Masters degree in English Renaissance literature, speaks four languages, and practices Energy Medicine as well as Tai Chi and Qi Gong. Nora has studied with various spiritual teachers and healers since 2003. She lives in Montreal, Quebec with her black cat Stella.