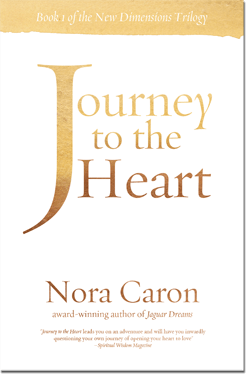 Journey to the Heart
Book 1 in The New Dimensions Trilogy
by Nora Caron
Overview 
Journey to the Heart is the tale of how one woman overcomes her bitterness and anger regarding life and love. Lucina, a twenty-five-year-old Canadian computer programmer, travels to Mexico in order to heal herself after a terrible burn-out and yet another bad relationship. By chance, she encounters a deeply insightful Mexican woman named Señora Labotta, who slowly helps her come into contact with her inner Self. But Lucina is stubborn and jaded, and has difficulty stepping out of her past into a universe of fluidity and acceptance. When she meets Teleo, a charming green-eyed healer, Lucina must make a decision: Either return to her fears and anxieties, or enter her heart, a place she knows very little of.
 Praise for Journey to the Heart
"An offbeat novel many a reader will enjoy"
—Midwest Book Review
"With lucid, flowing prose Nora Caron delves deep into the rift between men and women, while never losing a sense of optimism and wit."
—Anthony Marais, author of Delusionism and The Cure
"While details vary, many readers have been where Lucina's coming from. They will cheer for her, and if things go well for her, perhaps they will follow. Between now and then, Caron's words are good company and her story is hypnotically heartfelt."
—Malcolm R. Campbell, author of The Sun Singer and Sarabande
"What struck me about reading Journey to the Heart was that it seemed so real. I didn't feel as if I were reading a story, but eavesdropping on someone's actual path to self-realization"
—Nancy Whitney-Reiter, author of Unplugged and Now is the Time to Do What You Love
Format: Paperback | ISBN: 978-1-938846-09-0 | 246 Pages |  Visionary Fiction
Nora Caron
Author
After struggling through the academic system, Nora Caron realized that her true calling was to help people live from their hearts and explore the world through the eyes of their spirit. She has a Masters degree in English Renaissance literature, speaks four languages, and practices Energy Medicine as well as Tai Chi and Qi Gong. Nora has studied with various spiritual teachers and healers since 2003. She lives in Montreal, Quebec with her black cat Stella.