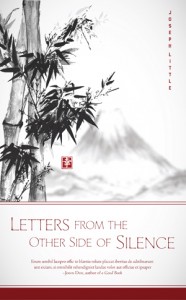 On March 14th, 2017, we will release Letters from the Other Side of Silence by Joseph Little. In this little book, Joseph chronicles his search for a meaningful life after slipping into a mystical state atop Pacaya, an active volcano in Guatemala. The journey takes him to a reclusive Russian mystic meditating in the Himalayas, an American theologian in St. Louis who helps him turn the quest inward, and eventually to an Agent Orange orphanage in Vietnam, where Little begins to realize the wholeness of a life that balances the inner fire of wordless prayer with the satisfaction of serving others.
Joseph is an associate professor of English at Niagara University, where he directs the first-year writing program and teaches courses in science writing, travel writing, and writing and well-being. He lives in Western New York with his wife, Samantha, and their 11-year-old puppy, Sister.
Following his philosophy of serving others, Joseph has decided that all author profits from the sale of this book will be donated to the Friendship Village, a home, school, and clinic in Hanoi, Vietnam, for approximately 120 children and young adults living with disability owing to exposure to Agent Orange.
Look for Letters from the Other Side of Silence wherever books are sold. If you reserve your copy in our bookstore, you also have the opportunity to participate in our Reciprocity Project.
For the entire year of 2017, for every order that comes through our store, we will donate one new book to a public library, school library, hospital library or prison library within the United States. How it works: It all starts with a visit our store. When you visit the Homebound Publications Store and make a purchase (there is no minimum purchase required) our order office will receive your order, process your order and send your books to you; while at the same time selecting a book from our press' offerings to donate to either a public library, a school library, a hospital library or a prison library. (Each month we will choose a different library to receive that month's donations.) It is that easy.
• • •
Read the First Pages
After the mystical experience of a lifetime, that goes beyond words because it goes beyond the thinking mind, what can be said? What must be shared? Joseph Little's journey from that point, through sacred places, through the writings of others, and through new insights, is written with a warmth and wonder that bring it as near the reader as the words of a friend. A powerfully inspiring book.
—Chad Parmenter, poet and author of Weston's Unsent Letters to Modotti
In his quest, Little independently re-discovers the hallmarks of the world's religious mystical traditions: the poverty of language; the disintegration of the boundaries of the self; even the intimate interplay between contemplative practice and physical landscapes. Yet while he eagerly travels along old and well-trod spiritual paths, he also at times breaks off from them entirely for territory all his own as he comes to grips with his immediate encounter of God beyond images and words. The result is a tale that is engaging, enlightening, and compellingly original.
—Robert St. Hilaire, Associate Professor of Religious Studies, Niagara University
Part travel memoir, part essay on nature mysticism, the author's letters bring us on an internal quest that reaches from a volcanic peak in Guatemala to a coffee shop in Vietnam.  Along the way Little provides context from a spectrum of thinkers through history.  Letters from the Other Side of Silence is a profound reflection on the awe and connection one feels in wild places, and the struggle to fit that experience into everyday life once one has returned home.
–Stephen Abatiell, Program Manager for Yellowstone Forever and Board Member for Vietnam Friendship Village Project-USA
In an age that hungers for an authentic guide to make sense of the fragmented and unresolved dimensions of the human experience, Little invites readers on his search for ultimate meaning and wholeness through the ancient art of mysticism. Little's deeply personal letters transport readers to phenomenal places in his quest for the Other and leave us with his unanticipated reality of the contemplative life that is simply astonishing. Little's spiritual memoir is a profound odyssey into the world of the Other.
–Kevin G. Creagh, C.M., VP for International Relations and for Mission, Niagara University