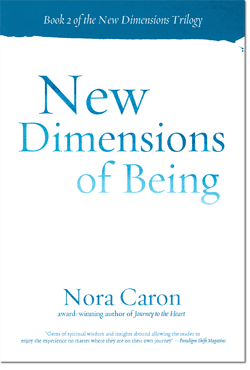 New Dimensions of Being
Book 2 in The New Dimensions Trilogy
by Nora Caron
Overview
In this sequel to Journey to the Heart, Lucina is haunted by terrible recurring nightmares. Unsure of what they represent, Teleo and her seek answers but the quest opens up many new areas of life Lucina is not certain she can cope with. Discovering that she is pregnant, Lucina faces a huge decision: Is she ready to become a mother or not? As Lucina stumbles around to find the right path for her, she realizes that keeping love alive is much more complicated than she originally thought.
Praise for New Dimensions of Being
"An intriguing new voice in spiritual literature."
—Michael Gurian, author of An American Mystic and The Miracle
"Nora Caron pens an inspiring read about the unexpected mysteries and magic of life."
—Laurie Graff, author of You Have to Kiss A Lot of Frogs and The Shiksa Syndrome
"In her latest spiritual novel, Caron explores Lucina's adaptation to her new life in Mexico, her awakening to her feminine power, and her quest to discover her true self as she opens to the wisdom of the ancients."
—Diana Burney, author of Spiritual Clearings: Sacred Practices to Release Negative Energy and Harmonize Your Life
Format: Paperback | ISBN: 978-1-938846-11-3 | 200 Pages | Visionary Fiction
Nora Caron
Author
After struggling through the academic system, Nora Caron realized that her true calling was to help people live from their hearts and explore the world through the eyes of their spirit. She has a Masters degree in English Renaissance literature, speaks four languages, and practices Energy Medicine as well as Tai Chi and Qi Gong. Nora has studied with various spiritual teachers and healers since 2003. She lives in Montreal, Quebec with her black cat Stella.