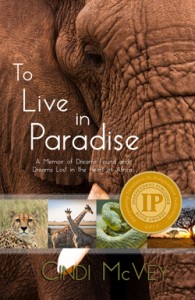 We are pleased to announce that To Live in Paradise by Cindi McVey was named a Finalist in the Reader's View Choice Awards and has gone on to be given an Honorable Mention in the Memoir/Biography category and was named winner in the Global Category: Africa. View the full list of winners here»
In addition, To Live in Paradise has always won the 2015 Independent Publisher Book Awards' Gold Medal for best Multicultural non-fiction! View the full list of winners here»
Set amid the magic and struggles of Africa, To Live in Paradise is the poignant memoir of a young American woman who finds herself swept up in an intriguing new life in Zimbabwe, just as this paradise country takes a critical turn in its history. As the idyll unravels, the nation applauded as Africa's success story plunges into a lawless land where tyrants rule. In a clash of humanity and earth, an unparalleled wilderness and a distressed nation both fight for survival. Her adventures include a cheetah attack, rioting crowds, inspiring safaris, and eye-to-eye snake encounters, shared with endearing characters who are her friends. Within this tale of an American's affair with a vibrant yet imperiled land, also unfolds a story of loss for one of Earth's last Edens.
Read Reader Views' praise for To Live in Paradise below.
To Live in Paradise is now available wherever books are sold in paperback. Look for the ebook in Kindle, Nook, and Kobo editions. View the book in our store»
~
TO LIVE IN PARADISE
by Cindi McVey
Reviewed by Paige Lovitt for Reader Views (12/14)
To Live in Paradise by Cindi McVey is a poignant memoir about her life in Zimbabwe during a critical turning point in the history of the country.
Leaving Alaska to vacation in Zimbabwe turned into a ten year adventure for Cindi McVey when she followed her heart back to a country that she felt drawn to on previous visits. While she was there for a vacation, she met her future husband and made the decision to stay and start a business. The beauty of the landscape left her feeling very optimistic, however, the political turmoil was very disheartening. Cindi had to watch while her friends were losing their livelihood and enduring abuse under the hands of the regime of the president of the country. In spite of the hardships, she continued to feel the heart of the country calling to her to make it her home.
Writing in incredibly vivid detail, Cindi describes the countryside and its inhabitants in a way that brought them alive and made me feel like I was there. The beauty of the landscape and the colorfulness of the people and the creatures made it seem surreal. Unfortunately, in addition to the political turmoil, there were also some devastating natural disasters that took a toll on the land. A huge increase in the population also reduced its chances for sustainability. As the president continued to allow lawless people to take over the land that had been carefully maintained, the losses were even more devastating and took the country further away from being able to recover.
These events were greatly draining and disheartening, yet Cindi found that she could still go to an untouched place and rejuvenate herself. Having to pursue different business plans from what she and her husband originally intended, they were able to exist in relative comfort, yet seeing the impoverished people live in filth was saddening. Zimbabwe has so many resources to offer her people, yet the leader of the country chooses greed and dictatorship over helping the people and the country survive.
Reading To Live in Paradise by Cindi McVey has opened my eyes to the plight of the people living there. I appreciate the opportunity to be educated in a way that makes what is happening more real to me. Cindi McVey's poignant memoir is a must read for all arm chair travelers and people who want to have a greater understanding about issues happening in the world around them.