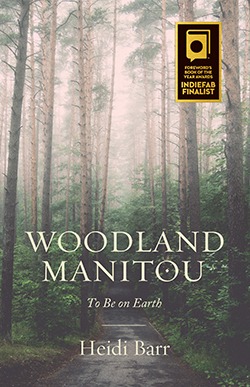 Woodland Manitou
To Be on Earth
by Heidi Barr
List Price: $17.95 | 978-1-938846-72-4 | Paperback | 5.5 x 8.5 | 252 pgs
Overview
Woodland Manitou: To Be on Earth is a collection of essays rooted in the rhythm of the natural world. Through the turn of the seasons, Heidi Barr illustrates how the cycles of the earth have informed her everyday life from community to vocation to the food that finds its way to the dinner table.  Through gardening, simple living, and prioritizing sustainability, Barr paints a picture of how remaining close to the earth provides a solid foundation even as the climate changes and the story of the world shifts.  Part stories, part wonderings, and part call to act, this collection of meditations invites reflection, encourages awareness, and inspires action.
Praise for Woodland Manitou
"To the extent it is ever possible to make sense of the human condition, Heidi Barr has done an incredible job within the illuminating pages of Woodland Manitou. The search for life meaning is never simple but, in adopting a seasonal theme, Barr provides a context that will enliven your search. Her heartfelt perspective about the challenges of the human story bridges moments, days, and years in a beautiful and compelling way. With nature as her touchstone, the author sheds a timely light on issues and dilemmas we are destined to encounter. A dynamic and inspiring book for today's world!"
–D.A. Hickman, author of Always Returning: The Wisdom of Place
"Pour a cup of tea, pull out your mud boots, and walk through the four seasons with Heidi Barr as your wise and humble guide. Woodland Manitou is a pure gift. A lovely combination of poetry and prose, it spans the human experience addressing everything from climate change to childbirth, home repair to the fragility of life. Barr reminds us to walk gently on the earth, gazing at the moon and noticing the purple flowers. Saturated with fantastic quotes and vivid imagery, these essays capture the beauty of dying leaves and gray winter mornings, naming the light and shadow sides of life. Barr's style is refreshingly mindful and invites the reader into her own sense of astonishment and gratitude."  
–Ellie Roscher, author of Play Like a Girl and How Coffee Saved My Life
"Heidi Barr's Woodland Manitou is a sourcebook for wonderers, for those discovering or rediscovering an essential connection with nature. Through a seasonal mosaic of stories, memories, reflections and meditations, one's emotional muscles will ache with resonant longing. However, this is no cloud drift of sentimentality. Instead, Barr guides along a trail worn with her intimate understanding of the elements of the primal domain while still facing down the challenges of modern life. She is relentless in turning the gaze of the reader away and into the wild, wherever it can be found. Her cathexis with creation is manifest. This is practice wisdom come in the form of invitation to "go out" into a deep belonging to the earth." 
–James Scott Smith, author of Water, Rocks and Trees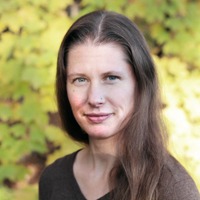 Heidi Barr
Author
Heidi Barr lives in Minnesota with her husband and daughter where they tend a large organic vegetable garden, explore nature and do their best to live simply.  As a mother, spouse, gardener, and wellness coach, she is committed to cultivating ways of being that are life-giving and sustainable for people, communities and the planet. Heidi holds a Master's degree in Faith and Health Ministries, and coordinates with yoga teachers and organic farms to offer nature-based retreat experiences.  Visit her at heidibarr.com.