As we look ahead to 2015, we just wanted to pause for a moment and look back on the books we brought to fruition in 2014. Our talented circle of authors and devoted staff released 11 titles in paperback and ebook this year, plus two of our earlier title in audiobooks! In addition to the new stories we sent out into the world, several of our 2013 titles also went on to win awards in 2014. Sheltered in the Heart by Gunilla Norris gathered several awards including being named Foreword Review's 2014 Book of the Year (Mind, Body, Spirit) making it one of the most celebrated spiritual titles of the year. Having Listened the debut collection of Gary Whited and winner of the 2013 Homebound Publications Poetry Prize won the 2014 Silver Medal Winner of the Benjamin Franklin Book Awards. And finally Journey to the Heart, book one in The New Dimensions Trilogy by Nora Caron won the 2014 Living Now Book Awards' Silver Medal for Best Inspirational Fiction!
 Browse our offerings of the last year below.
Match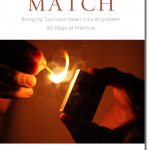 Bringing Heart and Will into Alignment
"Looking for a spiritual practice simple enough to fit a busy life, yet deep enough to help you grow? 'For ninety consecutive days', writes Gunilla Norris, 'light a match with a purpose, a feeling or a desire in mind', and if you miss a day, start the count again. That daily moment of persistent attentiveness to whatever is calling you from within will kindle new warmth, new light, new life. It's simple—but it's the simplicity on the other side of complexity. Illumined by the lifetime of wisdom Norris shares in yet another beautifully written book, "Match" describes a life-giving practice toward transformation." —Parker J. Palmer, author of Healing the Heart of Democracy, A Hidden Wholeness, and Let Your Life Speak

Airstream
Poems by Audrey Henderson
Finalist for the 2014 Homebound Publications Poetry Prize
About the Book: Vagabonds, prophets and vanishing societies, hunters of rare species and rare truths, silent canyons and the New Jersey Turnpike—Audrey Henderson's witty and profound poems lead us on a pilgrimage to the extreme edges of artistic and spiritual exploration.
The Uncallused Hand 
by Walker Abel
Winner of the 2014 Homebound Publications Poetry Prize!
About the Book: This is poetry kindled by weeks in wilderness. Its muse is nature, which encompasses both the wild beauty of earth and the mystery of self and its sometimes erotic, sometimes mystical, relationship with the other. The poems are lyrical, tonal, evocative–enamored in a sensual way of being, but also drawn at times toward the counterpart of non-being. The palpable world of natural detail is brought forth, yet the poems also echo with nuance, innuendo, archetype, and both meditative as well as enraptured levels of realization.

My Mother's Kitchen
A Novel with Recipes by Meera Ekkanath Klein
About the Book: My Mother's Kitchen is an enchanting place filled with promise, change and good food.  If the weathered walls of this magical room could talk they would tell the story of Meena and her childhood life. Each chapter is a slice in her young life and depicts her spunk and youthful spirit. A visit to the local Fruit and Flower Show becomes an adventure as told by Meena. Her distress at finding out about her aunt's dark secret or her joy of making a new friend are all told in her naïve, yet pure voice. Her mother is a central character in her life and it is no wonder that the kitchen is a special place of healing and rejuvenation, not only for Meena but for other characters like Kashi and Ayah.

The Conversions
 About the Book: In his novel, The Conversions, Richards deals with some of the most pressing questions at this moment in history: What kind of world can be created with the end of industrial civilization? What is truly at the root of the so-called clash of civilizations? What is the place for religion in the post-modern world? Is American identity only about defining and excluding the other? What does a government look like when everything, even education, is privatized?

Jaguar Dreams
A Novel by Nora Caron | Book Three in The New Dimensions Trilogy
About the Book: Jaguar Dreams, the final book in The New Dimensions Trilogy, finds Lucina in Guatemala searching for her lover who has run away. When she discovers the news that he is somewhere deep in the Petén jungle, Lucina hires an intimidating mysterious older guide named Alejandro who forces her to face more fears than she ever imagined she could handle. It is on dangerous and frightening jungle trails that Lucina at last surrenders to the greater powers that are guiding her life. In a dramatic scene, she encounters a deadly predator and transforms into a new woman, one who understands the world in a completely different light.

Journey to the Heart

 (Audio Edition)

by Nora Caron as Read by Blaire Chandler Wilcox

About the Book: Journey to the Heart is the tale of how one woman overcomes her bitterness and anger regarding life and love. Lucina, a twenty five year-old Canadian computer programmer, travels to Mexico in order to heal herself after a terrible burn-out and yet another bad relationship. By chance, she encounters a deeply insightful Mexican woman named Señora Labotta, who slowly helps her come into contact with her inner Self. But Lucina is stubborn and jaded, and has difficulty stepping out of her past into a universe of fluidity and acceptance. When she meets Teleo, a charming green-eyed healer, Lucina must make a decision: Either return to her fears and anxieties, or enter her heart, a place she knows very little of.
New Dimensions of Being

 (Audio Edition)

A Novel by Nora Caron | Book Two in The New Dimensions Trilogy as Ready by Blaire Chandler Wilcox

About the Book: In this sequel to Journey to the Heart, Lucina is haunted by terrible recurring nightmares. Unsure of what they represent, Teleo and her seek answers but the quest opens up many new areas of life Lucina is not certain she can cope with. Discovering that she is pregnant, Lucina faces a huge decision: Is she ready to become a mother or not? As Lucina stumbles around to find the right path for her, she realizes that keeping love alive is much more complicated than she originally thought.

Chewing Sand
An Eco-Spiritual Taste of the Mojave Desert
About the Book: What happens when an Easterner who needs trees, hates heat, and doesn't gamble spends a year living in Las Vegas? Follow the author's reflections as she comes to appreciate the surrounding desert so deeply that she returns seven years later to hear more of the Mojave's message. Share in the process as this desert reveals itself as both a macrocosm and a microcosm of the major issues facing us today. For as a sacred text set in the perspective of deep time and clarified by silence, the Mojave landscape has the power to move us humans from an ego-self to an eco-Self awareness.

Finding the Last Hungry Heart
A Novel in Verse by David K. Leff
About the Book: Enter a world where the past is present and stories matter. Teens climb a landfill fence, the 1960s come alive, and a disillusioned refugee from those turbulent years rediscovers himself.

To Live in Paradise
A Memoir of Dreams Found and Dreams Lost in the Heart of Africa
by Cindi McVey
2014 Green Festival Book Awards Winner
About the Book: Set amid the magic and struggles of Africa, To Live in Paradise is the poignant memoir of a young American woman who finds herself swept up in an intriguing new life in Zimbabwe, just as this paradise country takes a critical turn in its history. As the idyll unravels, the nation applauded as Africa's success story plunges into a lawless land where tyrants rule. In a clash of humanity and earth, an unparalleled wilderness and a distressed nation both fight for survival. Her adventures include a cheetah attack, rioting crowds, inspiring safaris, and eye-to-eye snake encounters, shared with endearing characters who are her friends. Within this tale of an American's affair with a vibrant yet imperiled land, also unfolds a story of loss for one of Earth's last Edens.
Call of the Sun Child
Winner 2014 Moonbeam Children's Book Awards
Bronze Medal, Best First Book
About the Book: Sempra has lived all of her sixteen years in an enclosed dome called the Circadia Stable Living Facility. It is structured, sustainable, and windowless. After the sun grew in intensity, causing society to become nocturnal, it was the only safe place to go. No one remembers the outside world. For 150 years the government has warned them about the deadly sun, and savage, vengeful outsiders. There is only one punishment for any crime: to be exiled from the facility. But Sempra is curious. Beyond those walls, what is there to see? When she and her childhood friend, Alden, discover a forbidden book, she begins to question the facility, and, with it, everything she has ever known.
Four Blue Eggs
by Amy Nawrocki
About the Book: Four Blue Eggs is sense music, an exploration of beginnings and of endings. In this collection of poems, Amy Nawrocki intuits fireflies and sapphires, observes gardens rooted in glasses of water, and tests the bindings of old books. Solace abounds—in winter's white, in the hefty doors of an Oldsmobile, in half melted candles. Stick figures walk in this terrestrial moonscape, birds nest in improbable trees, daughters survive without mothers and fathers. Her poems propose that though "we earn the favor of being by breaking," the pieces are salvageable; bruises heal from the inside through the universe's infinite surrogacy. The collection contemplates how to tether the salty wounds of sadness, how to find our treeness, and how to say good bye.