6 Questions with Amy Nawrocki, author of Four Blue Eggs
1. What books are on your nightstand?
The Gutenberg Elegies by Sven Birkerts and Dr. Tatiana's Sex Advice to All Creation by Olivia Judson.
2. What book are you an evangelist for—what book do you feel that everyone needs to read?
Uncle Tom's Cabin. I'm ashamed to say I just read it a few months ago. Essential reading.
3. If you could sit down with one author living or dead who would it be and why?
I'd really like to introduce Gertrude Stein to the semicolon. We have a few other things to discuss, too. Besides she has a lot of connections. It would be a full dinner party.
4.Tell us a little about your own creative process.
On my good days, I have an idea already in my mind. Sometimes it's a line, an image, an experience that I want to capture. If it's a really good day, I know where I think I want the poem to go.  On the best days, the poem takes me somewhere unexpected. On an average day, I just jot down a lot of phrases or words or prose it out in my mind. On a bad day, I forget what it was that I had so perfectly in my mind and end up watching Japanese baseball on ESPN.
5. At what point did you feel you crossed the line between "hobbyist" writer and "author"?
I never really thought of myself as a "hobbyist" (maybe amateur), but then again, it's hard to think of myself as an "author." When I decided to go to graduate school, I committed to doing more than just "dabbling." When I started to get publications and even when my first chapbook was in my hands, I don't remember thinking, "Now I'm an author." Actually, when I write prose I feel like an "author." When I write poetry, I feel like a "poet." That isn't to say poets aren't "authors" or that poetry is a "hobby." It's just the strangeness of word associations. At one point, I decided that I never wanted to be at a dinner party some day and say "I used to write poetry." That was my invisible line.
6. What are you working on now?
I'm promoting Four Blue Eggs; I just finished Literary Connecticut, my third collaboration with my husband Eric D. Lehman. I want to get back into villanelles which I had a lot of fun with while vacationing this summer. I like the meditative quality of the form.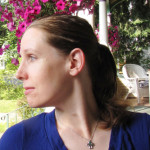 About the Author: Amy Nawrocki is a Connecticut native, raised in Newtown and now living in Hamden. She earned a Bachelor's degree from Sarah Lawrence College and a Masters of Fine Arts from the University of Arkansas. She has received numerous honors for her poetry, including awards from the Litchfield Review Poetry Contest, the Codhill Chapbook Competition, The Loft Anthology, Phi Kappa Phi, New Millennium Writings, and the Connecticut Poetry Society. Finishing Line Press published her three chapbooks: Potato Eaters, Nomad's End, and Lune de Miel. With her husband, Eric D. Lehman, she wrote A History of Connecticut Wine, A History of Connecticut Food and A Literary History of Connecticut. She teaches English and Creative Writing at the University of Bridgeport and is mother to two cats, Maple and Django.