author of the forthcoming collection The Strait, Finalist for the 2014 Homebound Publications Poetry Prize.
1. What books are on your nightstand?
Linda Hogan's Dark. Sweet. and Charles Wright's Bye-and-Bye: Selected Late Poems are stacked in the current tower. I've read Hogan's three times, still working on Wright's. His line breaks highlight crucial images, and their layered meanings demand multiple reads.
2. What book are you an evangelist for—what book do you feel that everyone needs to read?
 Mary Oliver's American Primitive. Read it. Read it again. Read it every year. I've carried it with me since I was in high school. It's not a difficult book. That's what I admire about it. As the title implies, the poems manipulate a primitive world, the raw state of things, to create metaphors for human emotions, thoughts, and dreams.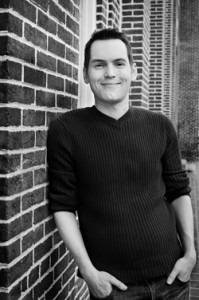 3. If you could sit down with one author living or dead who would it be and why?
 Elizabeth Bishop. She has diverse, articulate writing styles that range from the descriptive to the confessional. Most poets refine one voice, yet Bishop refined multiple. I would like to learn about her approach to poetry and how her personal life and adventures influenced it. The Fish is one of my favorite poems, and I would like to learn where she found it, what she did with it, and the process she used to write it into her poetry.
4. Tell us a little about your own creative process.

 I research. I find topics that interest me, and then I research their unique histories. I also learn the way things work. I'll learn a new cooking skill or how to tile a roof. I'll learn how bees pollinate or how lichen grows. I also break my office monotony and take walks or long night drives to see the city lights. And then everything falls into place.
5. What are you working on now?
 I'm working on a new collection of poems. The working title is Memory. It's about a ghost town, a fishing village that haunts the reader with memories of the hardships we endured to improve our lives. It's about labor, love, and loss, encapsulated in a town of ghosts, a haunting memory of where our lives began.
6. What do you do for fun?
Drink Diet Coke and go to free museums. I'm a poor poet in the big city, so I turn to the small things that comfort me. Most naturalists say they hike, camp, or climb rocks. I spend hours admiring the landscape and dreaming.
---
Poems by Andrew Jarvis
Finalist for the 2014 Homebound Publications Poetry Prize
Pre-Order Now | List Price: $15.95 | Visit our Shop»
About the Book: The Strait explores sensory experiences gleamed from the natural environment, historic traditions, archaeological findings, and folklore of the Pacific Northwest. Jarvis presents a spiritual and honest landscape rich with images and metaphors that define our place in this beautiful, multicultural world and what it means to be human. The poems move from mystical shores to haunting woodlands, a multifaceted exploration of the imaginary and the real.