A few questions for Eric D. Lehman, author of Afoot in Connecticut and The Foundation of Summer
1. What books are on your nightstand?
At this moment – Gustave Flaubert's Madame Bovary and Lionel Casson's Travel in the Ancient World.
 2. What book are you an evangelist for—what book do you feel that everyone needs to read?
Kenneth Grahame's The Wind in the Willows. I didn't read it until I was an adult and fell in love with it then. So I make sure to nudge adults into reading it, and of course give copies to all my nieces and nephews.
 3. If you could sit down with one author living or dead who would it be and why?
I would want it to be someone I don't know a lot about–so someone like Henry Miller would not be good for me, since I do a lot of scholarship with his work. I think someone whose life I know nothing about like Homer (if he exists) or Matsuo Basho–as long as I had a translator.
 4. Tell us a little about your own creative process.
I get ideas at all times of day, so I always try to write them all down on notecards. Later I sort these into plausible or not. Some develop into large projects, some into small ones, and some never go anywhere. I do almost all the work after the initial ideas on a laptop, which I find fine for composition and perfect for editing and revising.
 5. At what point did you feel you crossed the line between "hobbyist" writer and "author?"
When I was in my late 20s I began earnestly sending out my scribbling to internet sites and magazines, and put away all sense of entitlement or ego to be 'discovered' or worse, an 'unknown' genius. I began putting in the work, writing things specifically for certain sites or journals. Now, ten years later, I can write what I want for the most part, and choose my next projects. But it was the choice to work that made me an author.
6. What are you working on now?
I am finishing up Literary Connecticut and a collection of short stories for Homebound Publications. By the time this interview is published, I will hopefully be deep into a novel about fathers and sons, security and freedom, and the ever-present threat of werewolves.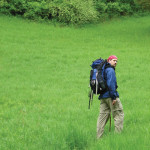 Eric D. Lehman is a travel and history writer, with reviews, essays, and stories in dozens of magazines and journals. He is also an award-winning author of many books, including Afoot in Connecticut,  The Foundation of Summer, A History of Connecticut Wine, Insiders' Guide to Connecticut, A History of Connecticut Food, Becoming Tom Thumb: Charles Stratton, P.T. Barnum, and the Dawn of American Celebrity, and Homegrown Terror: Benedict Arnold and the Burning of New London. In his spare time, he pursues Henry Miller scholarship and teaches creative writing and literature at the University of Bridgeport, where he directs the school literary magazine, Groundswell, and the faculty essay series, The Commons. He lives in Hamden with his wife, poet Amy Nawrocki, and his two cats.