6 Questions with Francesca G. Varela, author of the award-winning Call of the Sun Child, now available in papeback and ebook.
1. What books are on your nightstand?
I just finished reading "The Interestings" by Meg Wolitzer—fantastic, by the way—and I'm planning on reading some Muir next.
2. What book are you an evangelist for—what book do you feel that everyone needs to read?
My favorite book is "Catcher in the Rye" by JD Salinger. His freedom, voice, and unique writing style changed the way I look at writing.
3. If you could sit down with one author living or dead who would it be and why?
I would have to choose Thoreau. He has been my biggest inspiration, both in my writing and my philosophical development.
4. Tell us a little about your own creative process. 
I usually just sit down at my laptop and write. When I'm working on a novel, I try to get in 1,000 words a day, but if I don't feel like writing, I don't write. Nothing is ever forced. Inspiration comes from nature, daily life, memories. Sometimes I have an obscure idea, sometimes I have no idea what I'm doing. Either way, I start writing, stare out the window a lot, and let my instincts guide me.
5. At what point did you feel you crossed the line between "hobbyist" writer and "author"?
The moment I signed the publishing contract! Before that, I was always just a teenager saying "I want to be an author when I grow up".
6. What are you working on now?
Since Call of the Sun Child I've written the rough draft of another young-adult novel (no, not a sequel). I've also written a lot of short stories for the creative writing classes I'm taking in school, and I write in my journal all the time. Next I think I'll branch out from the young-adult genre and try a novel aimed at adult readers.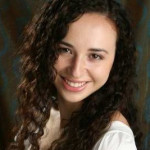 Francesca G. Varela was raised in Oregon's Willamette Valley. She graduated from West Linn High School in 2011 and is currently studying Environmental Studies and Creative Writing at the University of Oregon. Her dream of becoming an author began in third grade, and her writing career had an early start; she had a poem published in the 2002 edition of The Anthology of Poetry by Young Americans. Call of the Sun Child is her first novel. When not studying or writing, she spends her time practicing piano and violin, figure skating, walking her dog, Ginger, and exploring Oregon's wild places.