6 Questions with Gail Collins-Ranadive, author of Chewing Sand: An Eco-Spiritual Taste of the Mojave Desert
1. What books are on your nightstand?
My nightstand is graced by an expandable book holder crafted by my partner, and contains my most comforting, inspirational, and treasured printed companions that include all of Ellen Maloy's books, two by Thomas Berry, Paul Hawken's Blessed Unrest, Testimony edited by Terry Tempest Williams and Stephen Trimble, one of Diane Wilson's outrageous narratives of her environmental activism (another one stays in Denver), Joseph Campbell's Myths to Live By, plus some  of Loren Eiseley. Bill McKibben, John McPhee, along with Kenny Ausubel's Dreaming the Future.
2. What book are you an evangelist for—what book do you feel that everyone needs to read?
The book I am currently an evangelist for is Father Thomas Berry's The Great Work, which, by the way, is merely: "to reinvent the human on the species level with critical reflection within the community of life-systems in a time-developmental context by means of story and shared dream experience.  The book sets up why.  I have been a devotee of Berry ever since I sat beside him at a retreat and heard him mutter, "Put the Bible on the shelf and study Nature."
3.If you could sit down with one author living or dead who would it be and why?
The one author I'd like to sit with is Hendrik Willem Van Loon, whose lens on the world as a historian from Holland who taught at Antioch, Harvard, etc is a bit 'offbeat' in compelling ways: his humor prepares us for his insights and opinions about everything from The Story of Mankind (winner of the first Newbery Medal), American history, culture, art, geography, The Bible, Tolerance and Lives, a volume in which he invites people from history to join him for dinner and conversation,  with a different set of characters for each chapter.
 I would do likewise….with his guidance,  I'd  bring together Emerson, Eiseley, Lewis Mumford, and Ellen Meloy, have my partner prepare the meal and videotape the dinner, while I facilitated talking points around the major issues of today.
4.Tell us a little about your own creative process.
My creative process involves large blocks of silence, solitude and mental space that begins between 3:30 and 4 AM every day with journaling.  I try to open to whatever wants to come through me and my pen, and only turn on the computer when I have some clarity around this.  After an hour or more of writing before dawn, I greet the sun, then go out for a two mile walk to clear my mind and get a deeper perspective on what I was focused on….for my major creative questions are solved by walking and paying attention to the natural world.  I repeat this process in late afternoon.
5.At what point did you feel you crossed the line between "hobbyist" writer and "author"?
I realized that private writing was meant to be public when I wrote a very personal essay for my high school English class that the teacher then wanted to publish in the school newspaper: perhaps what was important to me was also important to others.  Most of my published writings have been passed through the prism of my own life experience for authenticity and accuracy before being offered to the public.
6.What are you working on now?
Currently, I am finishing up Inner Canyon: A Grand Wondering, about my part time sabbatical at the Grand Canyon several years ago.  I am also reworking a manuscript that draws from my experiences doing interim ministries in six different landscapes across this America the Beautiful: what each taught my spirit and then demanded in return. I am eager to delve into a project tentatively titled Graced Amazement: Witnessing to Deep Time in the Desert, so I can process my fascination with fossils.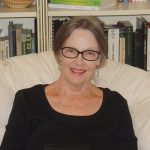 For Gail Collins-Ranadive, writing has always been the best way to stay centered and make sense of life's experiences: from being a nurse to earning a private pilot's license; from visiting with in-laws in India to spending time with a friend living in Nicaragua before and after the revolution there; from earning a degree in Peace Studies as a military spouse to lobbying for federal funding of the U.S. Institute of Peace; from creating a women's writing workshop as part of an M.F.A. in Creative Writing to winning a grant to publish it in book form; from earning an M.Div. to doing ordained interim ministries all across the continent; from growing up the oldest of eight to mothering two daughters to becoming a grandmother of four granddaughters and one grandson. An Easterner by birth, she currently spends winters at her home in Las Vegas, summers in her partner's home in Denver….always writing, writing, writing.
Come with us to Las Vegas and into the Mojave with Gail Collins-Ranadive's eco-essay collection, Chewing Sand now available to pre-order! When you pre-order a book through our store, we will send you your order a full two weeks in advance. We are shipping this title starting on April 5th! Look for it on Amazon, B&N and Kobo or ask for it in your local indie bookstore April 19, 2014! Visit our bookstore »