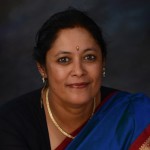 6 Questions with Meera Ekkanath Klein, author of My Mother's Kitchen: A Novel with Recipes, recently named a Finalist in the 2015 Beverly Hills International Book Awards.
1. What books are on your nightstand?
The books on my nightstand are usually just spiritual reading. I am currently re-reading, "The Bhagavad Gita for Daily Living" by Eknath Easwaran. But I do have a variety of books scattered all over the house from best-sellers to non-fiction. Since I work  part-time in an elementary school library I sometimes get caught up in a good YA book and so I just finished "The One and Only Ivan" by K.A. Applegate. Currently I'm enjoying "I'd tell you I love you, but Then I'd have to kill you" by Ally Carter.
2. What book are you an evangelist for—what book do you feel that everyone needs to read?
I am not evangelistic about one single book. That's because growing up in India my sister and I were always starved for reading material and so we read everything we could get our hands on. And I mean everything! From my mother's classroom textbooks (she was a high school English and Science teacher) to a set of Encyclopedias we received from America. I think everyone, children and adults, should read a huge variety of books from classics to the latest bestsellers. It is the only way to broaden your literary horizons.  My sons enjoy Mark Twain, poetry and the latest Clive Cussler and Lee Child novels.
3.If you could sit down with one author living or dead who would it be and why?
I discovered the writings of William Somerset Maugham in my late teens and just fell in love with his prose, his mastery of the short story and his biting wit. After I finished all his short story collections and novels I mentioned to a friend that I would love to have met Maugham over a gin fizz at the Raffles Hotel. His outdated attitudes toward women and people of color didn't really bother because I just loved his word craft so much.
4.Tell us a little about your own creative process. 
I am a little weird about my creative process. I tend to write whole chapters in my head before I put a single word to paper. As I tell my husband when I'm staring off into space I'm actually working!  While writing "My Mother's Kitchen" I was part of a writers' group and tried to write a chapter a week so that I would have something to share with the group. I have almost mulled my entire second novel in my head. Now I just have to sit down and get it all on computer.
5. At what point did you feel you crossed the line between "hobbyist" writer and "author"?
I had a professor in college who used to tell us that we couldn't call ourselves professional writers until we were paid for our work. As a newspaper reporter my words were my paycheck and not really a hobby. For years, after giving up reporting fiction, writing was just a hobby and until Homebound Publications finally gave me a contract I considered myself a hobbyist writer. I guess once I hold my first novel in my hand and my first royalty check in the other I will then have truly crossed the line to "author."
6.What do you do for fun?
For fun I read, of course. Lots and lots of reading. But all that brain work needs a physical outlet and I love to exercise. For a few years I taught Zumba fitness classes but now I just enjoy participating in them. I also take Bikram Yoga (hot yoga) fairly regularly. Going on long walks with my hound dog Duke is also relaxing. Visiting the famous Davis Farmers Market and creating something that is fresh, tasty and nutritious is something I consider fun.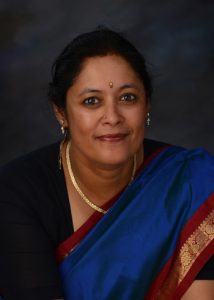 Meera Ekkananth Klein spent her childhood in south India where she learned the art of Indian cooking in her own mother's kitchen. Her first novel combines her love of cooking and telling stories. She was a newspaper reporter and columnist for a number of years before becoming a stay-at-home mother  for her two sons. Her work has appeared in The Sacramento Observer, The Sacramento Bee, The Camarillo Daily News, The Venture Star-Free Press, India Currents, and The Blue Moon Literary & Art Review.  She has had a short story published in "The Dog with the Old Soul," and her poems can be found in the Davis Poetry Project.  Currently she works part-time as an elementary school library technician. She lives with her family in Davis, CA and is busy working on her next novel. | Photo credit:  Todd & Barbara Photography, Davis CA
Look for My Mother's Kitchen on Amazon, B&N, Indiebound, and in our Bookstore.