Walker Abel is the winner of the 2014 Homebound Publications Poetry Prize. His collection, The Uncallused Hand  will be released September 29, 2014. Pre-order your copy now exclusively in our bookstore and receive your book 2 weeks before the official release! Visit our store>>
1. What books are on your nightstand?

Lately at night I've been leafing through "A State of Change: Forgotten Landscapes of California". It's a remarkable work by Laura Cunningham, blending detailed natural history research into pre-Columbian California and accompanied by her own paintings that reconstruct how certain locations, now immensely altered and impacted, may have looked once upon a time.
2. What book are you an evangelist for—what book do you feel that everyone needs to read?

Spur of the moment here, I'm going to put in a word for Freya Mathew's "For Love of Matter". Now I can't really say this book is for everyone because it is academically demanding, but I think she makes a pretty persuasive exposition of what she calls "panpsychism", a radically different worldview than the one that dominates now, and one that would make for more intimate, and more reciprocal, relationship to earth.
3. If you could sit down with one author living or dead who would it be and why?
That would have to be Walt Whitman. His poetry was so important to me as I struggled in my late teens, early twenties to find my essential values and to set my standards for what life should be. And he has continued to offer guidance and inspiration through my adult years. I would very much like to thank him face to face. Also, there is a wisdom and mystical insight expressed in "Song of Myself" and other of his poems, and I'd love the chance to be around that ambiance for a while. And finally, besides this reverence, I think he'd also be just a regular fun guy to hang out with on the porch through a lazy summer afternoon.

4.Tell us a little about your own creative process. 

There was a movement in me maybe a decade or so ago when I'd just sit down and say "Give me a first line." Sometimes I'd remember to say "please". But that was the writing I came to most value, and there was a receptivity embedded in it that was actually very pleasing even physically. It was pleasurable in body as well as mind. There was none of the furrowed brow conscious effort to get it right. The first line set it all going, like music, I suppose, and all I had to do after that was listen closely to the first line and hear what must necessarily follow. When it felt done, I had the feeling, as I'm sure many other writers do, of "where did that come from?" Now most of these poems never bore up to being perfect, along the lines of "first thought, best thought". Most do require, whether it's weeks, months, or years later, that I give them some of that furrowed brow treatment.
5. At what point did you feel you crossed the line between "hobbyist" writer and "author"? 
I don't think I'm being unduly modest to say that I'm not sure that is in fact a line I have crossed in a definitive way. I know all the recommendations that a writer is someone who schedules in the practice of writing in a disciplined and regular manner, no longer leaving it up to whim or the sporadic winds of inspiration. It is with a little sense of embarrassment or failure that I say that just hasn't been my method. Most of my poems have been written on backpacking trips where I sit down for a moment and express what is in me. But I suppose somewhere back there I decided I would always backpack with a journal, and somewhere along that line (which I can't remember precisely), the feeling did arise that this writing is very important to me, it is in fact something I must do. But to throw light on the question, we might also ask "Is backpacking a hobby?",  and if so, isn't it also something I must do to feel and express my relation to earth?

6.What do you do for fun?
 Besides backpacking and writing poems? Here in the Covelo area, we have a game called "corn hole". It's a bit like horseshoes, but you're trying to toss a bag of corn kernels through a hole in a slanted wooden platform set up some distance away. In any case, that's fun, but mostly it's the fun of silly camaraderie of friends.
♦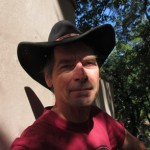 About the Author: Walker Abel lives in a remote home in the Yolla Bolly Mountains of northern California. As an undergraduate at University of California, Santa Cruz, in the mid-70's, he participated in an environmental studies field program called Sierra Institute. Twelve years later, after completing a graduate program with ecopsychology pioneer Robert Greenway, he came back to teach for Sierra Institute, which he has done now for 26 years, while also taking on the role of director since 2003. Most of his poetry has been written in field journals while out on these academic programs, which are 9 weeks long and are entirely taught during a series of backpacking trips. It has not been unusual for Walker to teach three programs a year, amounting to a total of up to 6 months in the backcountry. One of his greatest joys is watching each new group of students open over time to the transformative influence of wilderness immersion. Walker has a 33 year old son (Stuart), who is also an ecopsychologist, backpacker, and nature-connection educator.