In April we will take you to Las Vegas and into the Mojave with Gail Collins-Ranadive's eco-essay collection, Chewing Sand.
About the Book: What happens when an Easterner who needs trees, hates heat, and doesn't gamble spends a year living in Las Vegas? Follow the author's reflections as she comes to appreciate the surrounding desert so deeply that she returns seven years later to hear more of the Mojave's message. Share in the process as this desert reveals itself as both a macrocosm and a microcosm of the major issues facing us today. For as a sacred text set in the perspective of deep time and clarified by silence, the Mojave landscape has the power to move us humans from an ego-self to an eco-Self awareness. Visit our Bookstore to learn more»
"…Collins-Ranadive finds 'graced moments' everywhere as she listens lovingly to the landscape. Readers will finish her book with a deeper understanding of the dynamic vitality of the desert, our spiritual connection to the Earth, and the whimsical absurdity of living in Las Vegas."
—Stephen Trimble, author of The Sagebrush Ocean: A Natural History of the Great Basinand photographer of Earthtones: A Nevada Album
"Very few writers, good ones too, would dare to chew the sands of earth, the region of Las Vegas no less. But Gail Collins-Ranadive does just that with bold clarity. She is a mystic naturalist of high sensibility. Her eco-spirituality combines an engaging blend of prophetic bite and playful wit. Utterly unpreachy. In biblical fashion, her essays arrive as 'deep calling unto deep'. As a fellow transcendentalist, I can't wait to spread her sterling message abroad."
—The Rev. Dr. Tom Owen-Towle, author of Sauntering: A Soul-Journey in the Woods with Thoreau as My Guide
"This memoir is the story of falling in love with a boundless desert landscape and the fierce effort to protect it from destruction. …Chewing Sand will awaken the reader to that which seems unlovable. It is haunting, and causes one to see in new ways."
—Dana Greene, author and Dean emeriti of Oxford College of Emory University
"A beautiful anthem of gratitude. Gail has a reverence for her adopted desert's preciousness that echoes the sentiments of John Muir who was, likewise, a crusader for the conservation of natural resources…"
—Jackie Maugh Robinson, poet; Sun City, Summerlin Writers' Group
"A terrific writer with something powerful and meaningful to say? These days, such writers don't exactly walk down the street two at a time. But, in Chewing Sand, you will meet all that and more in Gail, whose journey to make peace with the barren landscape of the Mojave Desert is honest, humbling…and then oh so inspirational. The panentheism is palpable. Rich and layered. Yet this book is not about religion; this book is about recovering the human need for a dynamic cosmology. It matters that we are related to creation. And, as in all important relationships, this one requires rigor, intention and risk. Gail will take you by the hand, by the heart and the mind, and lead you there."
—Steven C. Kalas, M.Th.Pastor Counselor, author of Human Matters
"In her collection of essays, the Reverend Gail Collins-Ranadive reveals the connection between the timeless and temporal, the spiritual and the profane, as she observes them in the Mojave Desert around Las Vegas. In the process, she makes herself one of the leading voices in the modern eco-spiritual movement."
—Will Moredock, author of The Banana Republic; A Year in the Heart of Myrtle Beach
"Gail Collins-Ranadive's contemplative adventures in the Nevada desert, amid brilliant rocks and human foibles, would provide a year of sermons or an activist's agenda. This book will be a real morale booster to those who focus on global warming. A latter day Transcendentalist, Gail's poetic presence gives us 'nature's scripture.' Here's to those who step aside for marigolds!"
—Peter Tufts Richardson, author of Sunday Meditations and Four Spiritualities;Expressions of Self, Expression of Spirit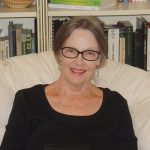 About the Author: For Gail Collins-Ranadive, writing has always been the best way to stay centered and make sense of life's experiences: from being a nurse to earning a private pilot's license; from visiting with in-laws in India to spending time with a friend living in Nicaragua before and after the revolution there; from earning a degree in Peace Studies as a military spouse to lobbying for federal funding of the U.S. Institute of Peace; from creating a women's writing workshop as part of an M.F.A. in Creative Writing to winning a grant to publish it in book form; from earning an M.Div. to doing ordained interim ministries all across the continent; from growing up the oldest of eight to mothering two daughters to becoming a grandmother of four granddaughters and one grandson. An Easterner by birth, she currently spends winters at her home in Las Vegas, summers in her partner's home in Denver….always writing, writing, writing.