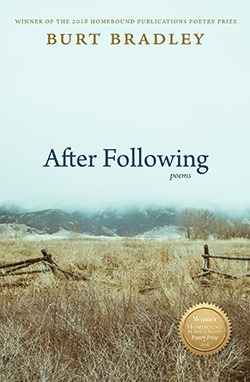 After Following
Winner of the 2018 Homebound Publications Poetry Prize
by Burt Bradley
*Shop in our store. You will save 20% off your entire order with coupon code INDIESTRONG. In addition, you will support the ideas and culture beyond the mainstream!  
+ receive free shipping on orders over $40.00
After Following is a collection of poems inspired by what the author Burt Bradley describes as poet whisperers: from Rumi to Kerouac, Ecclesiastes to Philip Levine, Emily Dickinson to Mary Oliver. These writers and numerous others' lives and work serve as guides in shaping the poet's ways of seeing and reflecting upon wildness in the world. Often this is expressed in poems depicting the severe beauty of Wyoming as well as the wide-open spaces of the inner life.
To speak of wildness, following Gary Snyder, is to speak of wholeness, in which hierarchies of value evaporate as well as the separation between the sacred and profane. The poems in After Following pay homage to a host of literary mentors, at times directly as in "A Belated Letter to James Wright," "Postcard to William Stafford." Other poems are more allusive, like "Rain, A Wyoming Love Song" (after T.S. Eliot) and "A Long Way from Amherst" (following Emily Dickinson).
After Following describes the process a poet develops in his or her craft. Beginning with reading and learning from the masters, great and small, following in their footsteps, after which one finds his own path, while acknowledging the mentors who served as his guides.
Advance Praise
"Part creative homage, part séance in verse, these poems mostly salute the work of great poets.  Burt Bradley demonstrates versatility and skill of craft along with an imaginative vision that invites the spirit of these writers―from Walt Whitman to Pablo Neruda and beyond―enabling them to live again in a reader's mind.  These well sculpted poems in a variety of voices intrigue and delight."
-David K. Leff, award-winning author and former poet-in-residence for the New England National Scenic Trail (NET)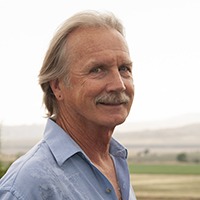 Burt Bradley
Author
Burt Bradley lives on a bluff in Northwest Wyoming seventy miles from Yellowstone National Park. For over thirty years, with his wife Janet, a photographer, he has delved into the wild serenity of the greater Yellowstone ecosystem. His writing has appeared in Ring of Fire: Writers of the Yellowstone Region, Michigan Quarterly Review, Best of Writers at Work, among others.   He is currently professor emeritus at Northwest College in Powell, Wyoming, where he taught Writing in the Wild classes in Yellowstone and the Southwest Desert. 
Get notified about the newest products and upcoming sales