Aimée Medina Carr
author of River of Love
Aimée Medina Carr is a fifth-generation Indigenous Southern Colorado native, who lives in in the foothills of the Sierra Nevada Mountains in California with her family, two cats, and a Labradoodle.
She worked as a filmmaker until she wrote the debut novel River of Love which received an Honorable Mention for the Landmark Prize for Fiction Award given by Homebound Publications in 2018.
Indigenous peoples' have survived by storytelling-a form of resistance. We're the ancestors of an age to come-a collective spirit through the centuries that work to make a difference, every generation has to move the boulder of good forward. If we don't tell our stories, who will?
Que Viva las Palabras!
You can visit her at aimeemedinacarr.com.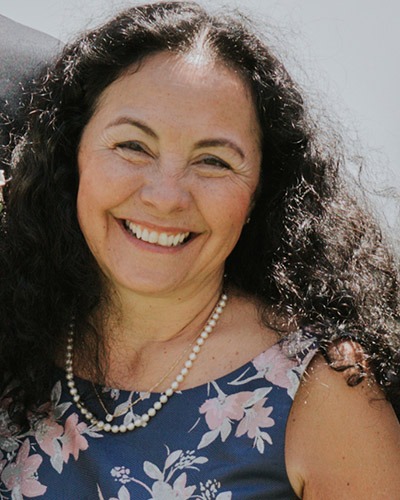 Now available
River of Love
Paperback | Size: 5.5 x 8.5 | Length: 338 pgs |  | List Price: 17.95
Fiction/Coming of Age
Counter Culture
Visionary Fiction
_______________________
Available in Paperback and ebook.
*Receive 20% off when you purchase in our store
+ Free shipping on orders over $40.00 with coupon code: INDIESTRONG
RIVER OF LOVE is a supernatural Love story about a fierce Indigenous Mexican American girl growing up in a white Colorado town during a youth-led cultural revolution of the 1970s. It's a Love letter to the Southern Rocky Mountains, to the Spirits, to a close-knit family, and even to youth itself. The Arkansas River is a vital character, as is the environment, and wisdom of the ancestors. Things that happen when you're young seem so much more important because they're happening for the first time. Indigenous Mexican Americans straddle two very different cultures; this story focuses on how we are all connected. Power is lost by moving in a forward direction the whole time looking backward. Mistakes are portals of discovery.
Trust The River ~The Flow ~ the Lover, to be in the present, trying not to make things happen, to not push The River. Let things come and go on their own, to flow like a riverbed. The story culminates with the high school friends gathering at a 40th school reunion. Attachments are invisible threads that reach through dimensions of space and time. Infinite Love shapes our lives. Love is what we are made for, and Love is who we are. What if caring for each other is the summit? At all costs stay connected.  
"River of Love is an insightful journey into the hearts and souls of an Indigenous community en la tierra encantada of Southern Colorado in the 1970s when the country was being transformed by a youth-led cultural revolution." 

–Richard Rohr
Prologue
Great Blue Heron
The measure of Love is
to Love without measure.
–St. Augustine
I soar into the blessed, brillante, bluebird sky, and bolt through thin, layers of silvery, mares' tail clouds. "Whew! My flying is rusty. I'm Juan de la Cruz (John of the Cross) Chávez, a wraith—a celestial being. I fly-by and drop in on my past life family to make sure all is muy bueno. It's a chance to see my granddaughter Rose Ramirez who's visiting her mother Alma, my daughter.
When Rose was in high school, this was a popular party spot on the Arkansas River. I watched over her, easily with a wingspan of six feet and a birds-eye view of all the activities. My camouflaged, blue-green color blended in with The River, rendering me almost invisible.
A strange word—Arkansas, pronounced Arkansaw, derived from the Quapaw Indian word akakaze meaning "land of downriver people." The River carries the weight of the past. Rose is drawn to esta tierra encantada—this enchanted land.
I met my wife Eugenia, at a community dance, in a small town in Nuevo Méjico. I was eighteen; she was sixteen—I'd spend eternity Loving her. Her father was a prominent lawyer, and I was a poor shepherd's son. I tried unsuccessfully to convince him that I'd be a good provider. My father found me a job at a large sheep ranch in Red Cañon, Colorado. The town straddled the easterly flowing Arkansas River. We married in secret and moved to our new life in the foothills of the majestic Rocky Mountains.
I worked as a sheepherder for a ranch owned by the Ku Klux Klan's Exalted Cyclops of the Klavern, allegedly, that's why I'm murdered. The three angry and jealous ruffians from Mexico couldn't stand that I had a happy family life and modest fortune. I helped them with a beat-up friend, as I dressed his wounds, they slipped rat poison into my glass of wine. I was the author of my misfortune, a victim of my kindheartedness.
I left behind my beautiful wife Eugenia with three, small children to raise. We had eight grown children; four married daughters with families and four sons, proudly, serving in the armed forces during World War II.
A terrible time to disappear from mi querida's—my darling's life, with no savings to care for our daughters Alma, seven, Adele, five, and youngest boy, John, three. I hovered for over a year to ensure no harm came to them. I cursed the wicked murderers.
I fly west toward the Arkansas River where we lived off River Street. Our casita de la río vista—the house with The River view was a quick stroll on a rocky, ribbon path to the shimmery bluish-green water. A small, two-bedroom, brick house on a large lot with a garden for the big family. The softball diamond-sized side lot perfect for neighborhood games.
The house now is long gone, but tender memories transport me to happier times. The Chávez Ranchito bursts with children's squeals, lively laughter and loud conversations of family, friends, and neighbors. The coffee warming on el fogón—the old, wood burning stove, continuously stoked with palillto's—wood.
We always had room at the table especially during holidays the front porch double doors open wide welcoming with tamales, tortillas, papas—potatoes and frijoles—beans. Washed down with strong coffee while sharing dichos y cuentos—wisdom laced tales with Eugenia.
She'd lure them onto the edge of their seats while spinning supernatural yarns. Then curtly announced: "Time for midnight mass, grab your coats and jump in the truck." Tough as steel and delicate as a butterfly.
A lay member of the Carmelite Discalced Order of the Catholic Church, her life work was assisting those in need. A healer and midwife who used herbal concoctions.
Red Cañon was the headquarters of the Ku Klux Klan in the 1920s. The white supremacist terrorist group had a resurgence. A wave of anti-immigrant sentiment fueled by bigotry against Jews, Catholics, and Blacks. The Klan surfaced after the Roman Catholic Church announced plans to build an Abbey monastery. Their motive was to block the unwelcomed Catholics. The town's nickname was Klanyon City.
The Catholic Church enlisted a devout, Catholic gold miner as the front man to purchase the 90 acres of apple orchard land. He took along seven monks and passed them off as his sons.
I sail over Sacred Heart School. Construction of the monastery began in 1924, and Sacred Heart School, a Benedictine boys parochial boarding college preparatory high school, opened in the fall of 1926. It was home to 90 monks and 250 students. The flowing fields of alfalfa for the horses and Gymkhana program replaced now with a winery. I dip and swirl past the gargoyles on the west side of the monastery, admiring their ageless beauty.
I've one more stop. I must peek in on qué linda—my beautiful daughter Alma. After my death, pobrecita was the Loving heart that held la familia together. Her youngest daughter Rose is the mirror image of my gorgeous Eugenia and Loves as fiercely.
Sitting at Alma's side, I close my eyes and listen to her long, deep conversation on the telephone, almost unknown today. Her voice sounds like it's smiling with a lilting laugh. The moment slows down, and I drink it in.
It's wrong to assume we're permanently gone when we die. We flit from Heaven instantly when our Loved ones are in need. To hold them and wipe their tears, and give pésame—sympathy during desperate, lonely hours. It doesn't have to be sad or scary; we can be here anytime. Almost everyone in Heaven has someone on earth they watch. Love transcends space and time, even death.
Alma tells Rae, her oldest daughter of the Prince Albert tobacco she smells while praying to the large, blue-robed Mother Mary statue in her bedroom. A naughty vice Eugenia and I, deliciously shared; she rolled them better than I did.
Spirits are Heaven's serendipity calling cards. We're the hawk or deer companion on the morning walk. We appear as surprises, or as a new development, voices heard in the shower, a soft tap on the shoulder. That barely audible whisper right before falling asleep. We're in the origins of your Love. The Alpha and Omega, in the air around you, swirling through your thoughts. The unexplained breeze weaving Love from Heaven to the in-between and Earth.
I blast straight up two-hundred feet and shoot westward over Main Street where it's no longer allowed to "drag the gut." A four-block strip of downtown, where bored teenagers in souped-up cars with loud mufflers, cruised up and down searching for excitement. A sacrosanct place of connection.
I pass over Chautauqua Park, where fun times echo with Fourth of July picnics and the many Chávez family reunions. I spot my oldest son, Julian's house, one block from the park. His strong-minded daughter, Chavela and Alma's audacious daughter, Rose raised like sisters wore down a one-mile path between houses, distinguishable from other rocky and tangled trails. One mile west forged through the side of a mountain is Tunnel Drive, another teenage party spot, a four-mile, man-made road with two tunnels.
I get a tug—it's almost time to return. Three miles north is Star Watcher Mountain where a star-crazed, Indian princess lost her life. The mountain silhouette is a perfect profile of a woman lying down. We'd tell our children this tragic, Indian legend and end with; "Happy counting, Star Watcher."
Directly across as the crow flies is Skyview Drive a scenic, touristy spot. A one-way highway built on a razorback ridge by Colorado State prisoners in 1903. It's 500 feet high with a spectacular view and a road that whips like a roller coaster. Red Cañon's referred to as "prison alley," because of its nine, state and four, federal prisons and penitentiaries.
My blue yonder exit portal—I don't know when or if I'll return. I leave overwhelmed with gratitude, savoring every second in Red Cañon. In the flicker of an instant, I vanish.
"River of Love is an insightful journey into the hearts and souls of an Indigenous community en la tierra encantada of Southern Colorado in the 1970s when the country was being transformed by a youth-led cultural revolution."
"Evocative, touching storytelling about a region and people that doesn't get enough coverage. A fine debut!"
"What a wondrous blend of juicy Chicana culture and contemplative insight. River of Love is a wellspring of wisdom embodied in the heart of a good story, the living landscape of the awakened feminine voice."
–Mirabai Starr, author of God of Love and Wild Mercy