Airstream, the debut collection by Audrey Henderson, is now available in paperback and ebook. Vagabonds, prophets and vanishing societies, hunters of rare species and rare truths, silent canyons and the New Jersey Turnpike—Audrey Henderson's witty and profound poems lead us on a pilgrimage to the extreme edges of artistic and spiritual exploration.
Airstream was the Finalist for the 2014 Homebound Publications Poetry Prize. Look for it on Amazon, B&N, in our e-store and at your favorite local indie bookstore.
Advance Reviews
"The poetry collection Airstream has already earned the accolade of being a finalist in Homebound Publications' poetry contest – but that's not why it's being recommended, here. Nor is it being recommended for its succinct verses, its grounding in literary technique, or even its striking imagery. …Its strength lies in its skill of observing and depicting the clashes between urbanization and rural environments, for its reflections on the process of change and transformation, and for its nuggets of combined wisdom and twists of story which incorporate powerful commentary within its scenarios.  …The best free verse poem becomes more than the sum of its parts. As an observational piece, the work moves between chaos and surprise, creating a milieu that transcends personal experience and moves neatly into world observations and bigger pictures of transformation. …That Airstream achieves all this is what makes it a standout from other poetry collections: a highly recommended pick for poetry enthusiasts who seek free verse, mind-popping images, and equally insightful commentary on the structures and blasphemies of man-made worlds."
—D. Donovan, Midwest Book Review | Read Full Review»
"Airstream abounds with intelligence, beauty and wit as Audrey Henderson takes us on journeys and through landscapes as various as the American Southwest, Seville and the Isle of Skye. Her poems reach back into prehistory, re-imagine Biblical story, speculate on the oddities of art and of nature—always with empathy. Her confident voice is full of curiosity and daring. Airstream is an adventure for all to enjoy and a book fellow writers will envy."
—Susan Donnelly, author of Capture the Flag
"I am so glad to have encountered the work of Audrey Henderson. These poems are full of wit, imagination, and a real delight in the sounds and moods of language. Whether she's writing about the Scottish moors or Chaos Theory, Henderson is interested, and interesting: she seems to be continually probing the world for meaning, and the poems in Airstream are a record of that search in all its variety. This is a wonderful first collection."
—James Arthur, author of Charms Against Lightning
"Audrey Henderson sees the world as a traveler, inhabiting but also discovering it, evoking exteriors and interiors alike. Airstream is a beautiful collection, grounded in art and culture, experience and learning, in the familiar and in the new."
—Amy Nawrocki, author of Nomad's End and Four Blue Eggs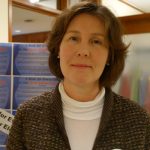 About the Author: Audrey Henderson's writing is rooted in her early life on the edge of Edinburgh, Scotland, where the clash of city and country, ancient history and wrenching modern change began an enduring fascination with the interplay between the natural and the man-made environment.
She has been active in the areas of literacy and environmental education for the last ten years and has just completed the launch of a school/church partnership and literacy volunteer program at an under-resourced Boston Public School.  She is a long serving school program guide at the Arnold Arboretum of Harvard University.
Audrey graduated from the University of Edinburgh, She has written frequently for BBC Radio Scotland and published a short story "Tales to Tell" in association with a radio series for schools.
Her poetry has appeared widely in both the United States and Britain, most recently in Magma, New Writing Scotland 31, Tar River Poetry and the Midwest Quarterly. She is the recipient of a 2014 Hawthornden Fellowship and was shortlisted for Scotland's Dr. Gavin Wallace Fellowship. She won second place in the River Styx International Poetry Contest and was a finalist in the Indiana Review ½ K Award as well as being chosen as a Special Merit Poet in the 2009 Muriel Craft Bailey Memorial Award Contest.  She was a finalist the 2012 and 2014 Slapering Hol Chapbook Contests and the 2012 Philbrick Poetry Contest.
She lives in Boston with her husband Richard and their children, Helen and Emma.