Back When – April 22, 1591
by Frank LaRue Owen
Winner 2017 Homebound Publications Poetry Prize 
I was sitting on a rough-hewn bench
eating a meager meal
in a small roadside saké shop.
A large jar of saké sat in front of me.
I ate, I sipped, I watched:
…an ant walk across the table
…rain drip-drip-dripping down a rain-chain
…the shuffle-shuffle-swish of a fine lady in late Spring kimono.
Two women at a nearby table,
maybe sisters, maybe aunt and niece,
gossiped.
Disturbing news rippled through the village.
Sen no Rikyū had committed seppuku.
I awoke from the dream, crying, openly,
in this life,
having comprehended
the profound teaching
lost on tyrant Hideyoshi.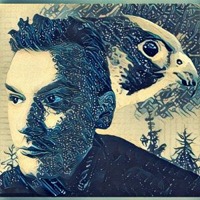 Frank LaRue Owen
Born into a family of artists, clergy, cowboys, fly fishermen, and poets, Frank LaRue Owen studied for a decade with a New Mexican wise woman and wilderness guide who guided him through a "curriculum" of Zen meditation, dream-tracking, poem-incubation, and earth-spirit work in the mountains, forests, and arroyos of Colorado and New Mexico. Influenced by the Chan (Zen)/Daoist/Pure Land hermit-poet tradition, American eco-poetry, and the wider human lineage of cross-cultural mystical poetry, Owen's poems are shaped by dreams, the seasons, diverse landscapes, myth-lines in the deeper strata of ancestral memory, and experiences with a practice he calls "pure land dreaming." Currently, he is working on his second book of poetry. Owen's other poetry and writing can be found at: www.purelandpoetry.com.