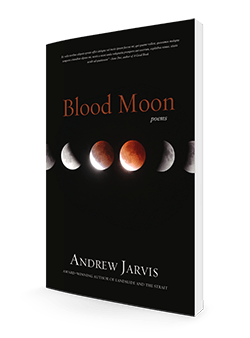 Overview
A "Blood Moon" is a phrase that describes the red corona that appears around the moon during an eclipse. It is a physical manifestation of an event that appears strange and frightening, and is also natural. In Blood Moon, Jarvis writes multisensory natural and spiritual metaphors to explore the struggle of contemporary peoples to retain their homeland, ancestry, and watershed in an encroaching, overpowering metropolitan world.
Early Praise for Blood Moon
Andrew Jarvis relishes in the pleasure of resonant language with poetry that always engages readers by summoning detailed imagery from nature and by including all the senses as we "fall into the elements." His work seeks to reveal to each of us the significant intricacies involved in examining life and celebrating the living, while also acknowledging death and loss as evident necessities in the natural cycle, "surveying death's frozen underworld, / to grasp what life's glacier envisions." Consequently, Blood Moon presents a compelling and convincing collection of poems that offers readers a rich reward.
—Valparaiso Poetry Review
Andrew Jarvis' latest book, Blood Moon, is a haunting poetic picture of the reality of the destruction of nature and the toll taken on mankind's life and soul. There is also an exploration of the violence in random accidents as well as a father's pride in hunting and killing animals. The writing is forceful and vivid. He does not shy away from confrontations with beauty and savagery.
—M. J. Kledzik, author of As if Wine Could Pour from Her Nipple
"Blood Moon is the bee's fighting orbit, nature's 'anatomized art,' and working-class hands building the bridges we take for granted. Like the cephalopod's eye, these poems stare back, so that we are challenged to preserve, implicate, and celebrate in the name of environmental conservation."
–Juan J. Morales, Pilgrimage Magazine
"Through these lyrical, evocative, and sensual poems, Jarvis jolted me out of the tranquility I typically find in the natural world. His juxtapositions of population growth, harsh aspects of nature, and degradation of the earth with the struggles of modern-day humans, call us to reflection—and action."
–Iris Graville, author of Hiking Naked: A Quaker Woman's Search for Balance
"The success of Blood Moon lies in its honesty. The collection is a journey through a realized and metaphorical wilderness, and the imagery is stirring in its exactness."
–Amy Nawrocki, author of Reconnaissance
Andrew Jarvis
Author
Andrew Jarvis is the author of Sound Points, Ascent, The Strait, and Landslide. His poems have appeared in Cottonwood, Evansville Review, Valparaiso Poetry Review, Tulane Review, and many other literary magazines. He was a Finalist for the 2014 Homebound Publications Poetry Prize, and he has been a Finalist for three INDIE Book of the Year Awards. Andrew holds an M.A. in Writing from Johns Hopkins University.