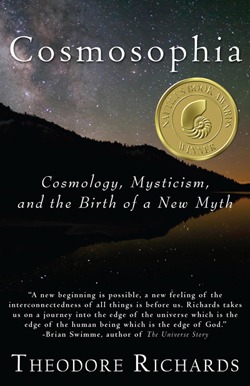 Cosmosophia
Cosmology, Mysticism, and the Birth of a New Myth
by Theodore Richards
Praise for Cosmosophia
"Richards writes skillfully and soulfully about the most pressing issues of our times, and the deeper crisis out of which they have emerged. Drawing from a vast trove of knowledge about the world's religious, mystical, and philosophical traditions, he extracts the most valuable gems, polishes them with the revolutionary insights of modern science, and forges a radiant, new cosmosophy—a universal wisdom that honors the wisdom of the universe. The beauty of this mythos is that it, like the cosmos, is not static but dynamic, inviting our active participation and imaginative engagement.
"This book succeeds in instilling reverence for a living universe and hope for a dying planet. May Cosmosophia blossom and flourish in the hearts of all beings!"
—Darrin Drda, author of The Four Global Truths
"Theodore Richards' poetic book, Cosmosophia: Cosmology, Mysticism, and the Birth of a New Myth, calls us and challenges us to never cease making meaning of life. Richards recognizes that we are on the verge of awakening to a new myth, a new story of human and cosmic significance that honors our deep past, embraces the totality of community, and yearns for fullness of life for generations to come.  Richards insightfully explores the roots of the current crisis of meaning and, using the womb and birthing as primary metaphors, midwifes us into a profound sense of the cosmos as womb.  Cosmosophia truly gives birth to a vision of the Universe that is healing, hopeful, and compassionate."
—Linda Gibler, PhD., author of From Beginning to Baptism: Scientific and Sacred Stories of Water, Oil, and Fire
Theodore Richards . . . takes us on an epic journey . . . It is his journey and it is our journey.  It is humanity's journey and though it necessarily includes the misery of cruelty and oppression, there is wisdom at work as well . . . Things could be so different.  We wandered away from our African origins so many millennia ago, and though we have become lost and confused, the universe leaves clues everywhere.  A new beginning is possible, a new feeling of the interconnectedness of all things is before us.  Richards takes us on a journey into the edge of the universe which is the edge of the human being which is the edge of God.—Brian Swimme, author of
—Brian Swimme, author of The Universe Story, on Handprints on the Womb
"Theodore Richards is a unique and gifted social activist, one with a well-nourished brain as well as a conscience. His commitment to inner city youth wounded as so many are by a culture that prefers consumption to compassion and preaches couchpotatoitism over creativity, he has spent years bringing alive the potential of young people in finding their in-depth selves and their place in our amazing universe. In a previous generation, someone of Theodore's depth and integrity might have worked out his vocation in a monastery. In our time, he finds his way in the urban world of struggle and promise, despair and hope. He is a philosopher-activist who listens deeply and walks his talk.  What he is learning is worth our all listening to."
—Matthew Fox, Author of Original Blessing and The Hidden Spirituality of Men
Theodore Richards
Author
Theodore Richards is the director and founder of The Chicago Wisdom Project, a core faculty member of The Fox Institute, and the author of six books. He is the recipient of numerous literary awards, including two Independent Publisher Awards, The USA Book Award, and the Nautilus Book Award. He lives in Chicago with his wife and daughters. For more information go to his website, www.theodorerichards.com.