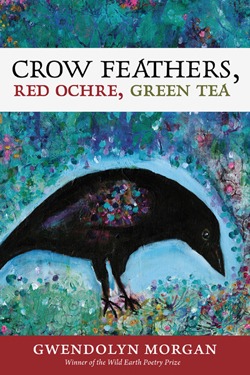 Crow Feathers, Red Ochre, Green Tea
by Gwendolyn Morgan
Overview
Gwendolyn Morgan's first collection, Crow Feathers, Red Ochre, Green Tea, offers richly textured poetic renderings of natural landscapes and emotional nuances in response to those landscapes. She weaves concerns for global warming, social inequities, and health care together with images of birds, plants, animals, breath, evoking our interconnectedness with all sentient beings and the spiritual universe. There is in these poems a deep sense of care for and rootedness in the natural world.
Praise for Crow Feathers, Red Ochre, Green Tea
"Gwendolyn Morgan's poems celebrate her intimacy with the natural world, which is rendered with luminous clarity. Although wholly grounded in the earth, she is primarily a poet of the spiritual life. The quiet subtlety and reverence of her language belies the tough, forthright inquiries that lie below. She's a poet who asks the big questions, and her answers are full of grace and surprise."
—Chase Twichell, author of Horses Where the Answers Should Have Been: New and Selected Poems
"With Crow Feathers, Red Ochre, Green Tea, Gwendolyn Morgan tells us that 'this is the beginning of the world.' And it's true: Open this book to the poet's invocation of the world onto the page and into your body, your heart, and your mind, the very center of what it is to be a human creature right here and right now. In a language both plaintive and joyful, the poet occupies and traces liminal space and time: the opalescent interplay of shadow and light, the past re-membering itself in the present, the way suffering and transformation sit side by side and sing to us in the voice of raven, of crow. Open this book, and understand how 'we wake up / and send our hearts / along with the sound.'"
—Vicki Reitenauer, faculty at Portland State University
"In her first collection of poems, Gwendolyn Morgan begins with nature and spirit—an homage to beauty and a gratitude for grace. Then enters illness, war, suicide, a child's accidental death reminding us that even buoyed by spirit we swim in a sea of loss. But it's not all loss. There's a crow flying through the sky of these poems, pestering the mourning doves and most of the other birds, all with wings."
—David W. Romtvedt, author of Certainty
"Reading these poems is like taking a dip in a cool mountain stream. We are refreshed by the poet's sensitivity to the movements and rhythms of soul. Gwen is able to embrace a wide expanse of life, pulling in the wild surrounds of nature as well as tender moments of loss and sorrow. These poems satisfy a thirst for something real and substantial. A rare gift indeed."
—Francis Weller, author of Entering the Healing Ground: Grief, Ritual and the Soul of the World
"The first gift is the quiet that comes from the reflective quality of these poems. And the second is a sonorous prayer of color, sound, and spirit. Gwendolyn Morgan gives us words as talismans against the awesomeness of life lest it overwhelm with beauty and sorrow. These are poems of contemplation, of honest searching, written with precision and faith."
—Mariana Romo-Carmona, author of Living at Night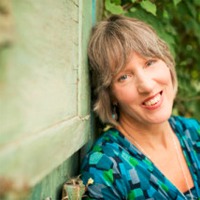 Gwendolyn Morgan
Author
Gwendolyn Morgan learned the names of birds & wildflowers and inherited paintbrushes from her grandmothers.  She is grateful for: Artsmith, Caldera, Soapstone residencies, M.F.A. (Goddard) and M.Div. Crow Feathers, Red Ochre, Green Tea was honored with the Wild Earth Poetry Prize.  Snowy Owls, Egrets and Unexpected Graces is a Foreword Indies Book of the Year Awards Finalist.  Gwendolyn and Judy A. Rose share their Salmon Creek home and creekside walks with Naomi, a rescued Cardigan Corgi & Chesapeake Retriever mix.