david k. leff
Award-winning author of Canoeing the Legendary Allagash, Tinker's Damn, Doppelganger and Terranexus
David K. Leff is poet laureate of Canton, Connecticut and former deputy commissioner of the Connecticut Department of Environmental Protection. He is the author of six nonfiction books, three volumes of poetry and a novel in verse. His 2016 book, Canoeing Maine's Legendary Allagash: Thoreau, Romance and Survival of the Wild won a silver medal in the Nautilus Book Awards for memoir and a silver medal in the Independent Publisher Book Awards for regional nonfiction. In 2016-2017 the National Park Service appointed him poet-in-residence for the New England National Scenic Trail (NET). David's journals, correspondence, and other papers are archived at the University of Massachusetts Libraries in Amherst.

Visit him at davidkleff.com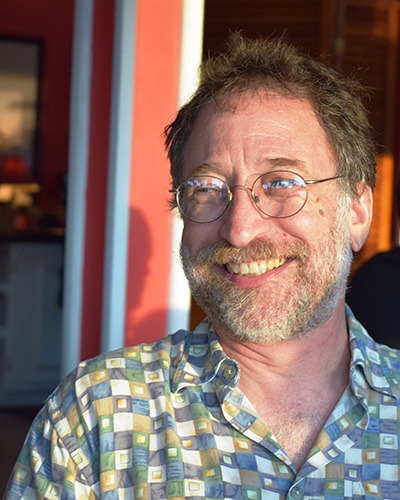 Imagine being haunted by doubles. Picture yourself repeatedly mistaken for others, both celebrities and unknowns. A double infiltrates your family life altering close relationships. Another brings your reputation and career into question. Shadowed or second selves have long blossomed in legend and stories, but in David K. Leff's world they leap to life, intruding in unexpected ways. If you've never been scarred by a doppelganger, but especially if you have, you will want to join Leff as he struggles to maintain his equanimity in a realm of mirrored selves.
"Both in his re-creations of familial and public trials with confusions of identity with other 'doubles,' our David Leff is able to meet and be open-hearted and open-minded with his two significant doubles. And here hangs the tale: for this reader, having a double may well be the trickster universe's way of suggesting that we are not as singular as we think, that we come to know and appreciate who we are by way of others, whether we look like them or not."
–Margaret Gibson, Poet Laureate of Connecticut
"In a world of billions intent on submerging our identities into the whole, David K. Leff makes an eloquent plea for individuality."

–Eric D. Lehman, author of Great Pan is Dead
I
A First Doubling
He grabbed my arm and swung me over his head like a human lasso. Dizzily I went round and round, the world contracting to the tightness of his grip, the vortical breeze of rotation. Like the carnival Tilt-A-Whirl ride we'd shared a month earlier, everything around me seemed to spin in a fleeting, woozy blur—gray and black checked couch, glass-top coffee table, the television's small green rectangle in a large blond wood box.
Suddenly he let go and I flew through the air, slamming against the plaster wall. I don't remember the impact or falling, but when finally I opened my eyes my mother was standing over me screaming hysterically, tears streaming down reddened cheeks. "You've killed him!" she screeched at my father. "You've killed him!"
I was barely six years old. With the wind knocked out of me I couldn't talk or move. The world slowly spun as I looked up at Mom, her face a trembling knot of fear and pain. I saw two of her. For the next couple of hours, there was two of everything. I'd never seen double before, never encountered the notion of dual images or the possibility that time, space, and happenstance could play tricks with the senses. Cradling me like a baby, she carried me to my bedroom. As she rubbed my forehead and tucked me into a soft blanket, I caught a glimpse in the mirror. Reflected in the bright surface were two of me.
By the time my father returned hours later, my eyesight was again normal. What a relief there weren't two of him. I heard him enter the front door, and with a limp I slipped out the back. Even outside I could hear my parents violently arguing, though I could not make out the words. Their angry, contentious sounds pummeled me like fists, yet a second beating. My home seemed to be imploding.
The fort I had built in the backyard of rotting lumber, old screens, and bricks scavenged from a nearby vacant lot was gone, it too a victim of my father's rabid temper. Constructed that morning, it had been a cozy, private space, a place for aloneness, of oneness. But it had lit my father's blind ferocity, desecrating the suburban paradise of lawn, peonies and tomato plants he'd labored so hard to create. I was relieved the fort had disappeared the way you are glad a wound has healed. The only scar was invisible and inside me. By building my fort, I had damaged my home.
Double vision from physical injury or other trauma is hardly the same as having a doppelganger or double. But as a young child with a typically rich fantasy life, the distinction was illusory. Fairytales, movies, books, and campfire stories nourished ghoulish, second self notions. In the deep recesses of imagination, the possibility of doubleness, of a living shadow, of someone playing me like a thespian hunkered within me like a seed. Seeing double, however briefly, made such unsettling dreams almost palpable. But it hardly prepared me for the bizarre doublings that were yet to come.
Much later I realized that fear of a double or someone slipping into my identity was not merely the idle imaginings of a child. Confused, invented, and stolen identities have existed as long as humankind. In addition to mirrored selves and resemblances, assumed personalities have been created by famous imposters. They are diverse and often startlingly successful—Grey Owl (1888-1938), an Englishman who posed as an Ojibwe; murderer Christian Gerhartsreiter (b. 1961) who claimed to be a Rockefeller; and Sarah Edmonds (1841-1896) who masqueraded as a man so she could serve in the Civil War. Our cherished singular selfness is not always as distinct to the world around us as we think.
A person might think that their singularity is the one thing that can never be wrested away. But in these days of electronic identity theft for financial gain or ego satisfaction, imposters are legion. Our digital world creates enormous opportunities for humbugs and tricksters. Electronic posers, Facebook zombies, and doctored photos and phony drivers' licenses are commonplace. Easily distracted, we become oblivious to secret sharers. Though I've never yet had a bank account raided or a tax refund filed by someone claiming to be me, muddled identities have haunted my life in curious and unexpected ways.
Call it doppelganger, second self, alter ego, lookalike, namesake, mirrored self, or something else, my life has been populated with doubleness beyond comfort. Forget clichés of "double your pleasure" or "twice is nice," and the evil twins of low budget films. My encounters run the gambit from laughable coincidences to emotionally wrenching personal and public conflations cruelly mimicking individuality, at times almost a forced ventriloquism. Doubleness is a kind of shadow, cloud, or fog. You feel a semblance of yourself that is something other. It hangs over you. Stalks you.
Award-winning
Canoeing Maine's Legendary Allagash: Thoreau, Romance and Survival of the Wild
Paperback | Size: 5.5 x 8.5 | Length: 180pgs | List Price: $16.95
Silver Medal in the Nautilus Book Awards for Memoir
Silver medal in the Independent Publisher Book Awards for regional nonfiction
Meet Henry David Thoreau, U.S. Supreme Court Justice William O. Douglas, and other intrepid explorers as you travel northern Maine's rugged woods and waters.  In a wild country of ledge and trees that stubbornly resists encroaching civilization, find a young couple padding through the trials, triumphs, and sheer mental and physical exhaustion of wilderness travel severely testing their ability to get along and even complete the trip.  Fill your ears with roaring rapids and yodeling loons.  Smell pungent spruce and dank swamps.  Encounter moose and majestic sunrises cloaked in morning mist.  A few pages, and you will find yourself deep in the evergreen forest.
_______________________
Available in Paperback and ebook.
*Receive 20% off when you purchase in our store
+ Free shipping on orders over $40.00 with coupon code: INDIESTRONG
"If you have been on a canoe trip, you know the adventure is the center of a complex venn diagram of relationship, history, and a testing of character and adaptability. David captures this and more in an artful way that will make you dream of hitting the water to commune with nature and your very soul."
—Walter Opuszynski, Northern Forest Canoe Trail, Trail Director 
"Canoeing Maine's Legendary Allagash is a multi-layered story that transcends time, if not place. As we follow two individuals challenged by heavy winds, rapids, tough portages, and slightly bruised egos, we also encounter the stories of travelers and settlers from over the past 150 years. Through David's poetic prose, we experience both natural beauty and the risky business of hard travel in a new relationship."
—Corinne H. Smith, author of Henry David Thoreau for Kids and Westward I Go Free: Tracing Thoreau's Last Journey
"Readers will hang onto the back of David Leff's roiling canoe in this story. He steers through the early fractures of a relationship amid the beauties and terror of a wilder Allagash, and skillfully adds in details of the explorers and exploiters who floated before him. Refreshingly honest. A very strong narrative voice!"
—Christine Woodside, Editor-in-Chief, Appalachia