Forest Bathing
by Frank LaRue Owen
Winner 2017 Homebound Publications Poetry Prize 
There is a way of entering the forest
when the breeze of the trees
becomes your guide
when the cool gray-green days
and humid blue-green nights
become your own skin
where the unfurling paths
through the emerald light
become flowing streams.
Paths as luminous rivers
for your two uncovered feet,
salmon-like and aching,
to work out their
strange haunted yearning
for a home
whose vista
they haven't yet seen
yet somehow know
just the same.
There is a way of approaching the self
without a heavy hand
when the heart-mind
slowly becomes unburdened by the past,
where the body
listening with the whole of itself
finally becomes attuned
to all the subtle happenings
in the realm not yet stained
by the faithless world of man.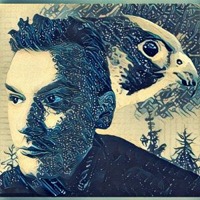 Frank LaRue Owen
Born into a family of artists, clergy, cowboys, fly fishermen, and poets, Frank LaRue Owen studied for a decade with a New Mexican wise woman and wilderness guide who guided him through a "curriculum" of Zen meditation, dream-tracking, poem-incubation, and earth-spirit work in the mountains, forests, and arroyos of Colorado and New Mexico. Influenced by the Chan (Zen)/Daoist/Pure Land hermit-poet tradition, American eco-poetry, and the wider human lineage of cross-cultural mystical poetry, Owen's poems are shaped by dreams, the seasons, diverse landscapes, myth-lines in the deeper strata of ancestral memory, and experiences with a practice he calls "pure land dreaming." Currently, he is working on his second book of poetry. Owen's other poetry and writing can be found at: www.purelandpoetry.com.