Afoot in Connecticut, is a love letter to this often overlooked region of America, an inspirational story that will have you taking to the trails and the greenways, along the beaches and mountaintops, and into a land full of transformation, of beauty, and of strength.
It is a memoir about erasing the tracks of the past and starting a new life, and it is an investigation of local ecology, geography, and natural history. It is both a call for preservation and a moving love story. It proposes that the answer to the question who am I cannot be answered without asking where am I?
Many a time, when Eric travels through the Nutmeg state, he brings his camera, allowing us to go with him on his journeys. In this first video Eric travels the back roads of Connecticut, teaching us how we can tell the age of the old dirt pathways we tread.
  Praise for Afoot in Connecticut
"Afoot in Connecticut proves the old adage that the slower you go, the more you see. In these pages we join Eric Lehman on peripatetic rambles the length and breadth of the Constitution State, exploring beaches and ridgelines, woodlands and caves, back roads and rivers, colonial cellar holes and ancient stone walls. With its seamless fusion of the cultural, natural, and personal, this book will enrich the experience of visitor and native alike."
—David Leff, author of Deep Travel and The Last Undiscovered Place
"Afoot in Connecticut is a gift of knowledge and love to those who have traveled or would travel Connecticut's trails and waterways, mountains and shores."
— Dick Allen, Connecticut State Poet Laureate
"'There are times when natural history, geology, and archaeology break down and sunlit meadows stream unencumbered through the eyes and into the spirit,' Eric D. Lehman uses his glorious, restless spirit to show us unbridled Connecticut. If Afoot in Connecticut doesn't make you put on your hiking boots and burst out of doors and beyond the suburbs, nothing will."
—Tom Shachtman, author of The Most Beautiful Villages of New England
"Afoot in Connecticut is coming out in May. It is by my good friend, Eric Lehman, Professor of English at the Univ. of Bridgeport. His book on the History of Connecticut Wine is a great reference, and his Insider Guide to Connecticut is good fun and invaluable for anyone living or travelling in the Nutmeg State. The guy flat out knows how to write and make the subject interesting. Neither perfunctory nor yawn-inducing. Like Goldilocks's soup, Eric's writing is just right."
—Francois Steichen, former writer for the Greenwich Citizen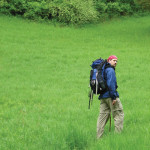 Eric D. Lehman is a historian and travel writer, and the Director of Creative Writing at the University of Bridgeport. His essays, stories, and reviews have been published in dozens of journals, newspapers, and magazines, from Rackelhanen Fly Fishing to Wilderness House Literary Review. He is the author of numerous books about his adopted state, including the Insiders' Guide to Connecticut, A History of Connecticut Food, and A History of Connecticut Wine. He lives in Hamden with his wife, the poet Amy Nawrocki, and their two cats.