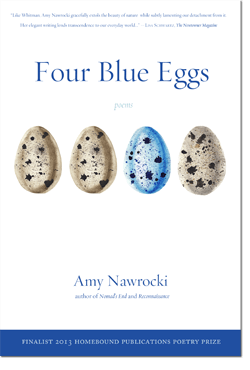 Four Blue Eggs
by Amy Nawrocki
Finalist for the 2013 Homebound Publications Poetry Prize
Overview
Four Blue Eggs is sense music, an exploration of beginnings and of endings. In this collection of poems, Amy Nawrocki intuits fireflies and sapphires, observes gardens rooted in glasses of water, and tests the bindings of old books. Solace abounds—in winter's white, in the hefty doors of an Oldsmobile, in half melted candles. Stick figures walk in this terrestrial moonscape, birds nest in improbable trees, daughters survive without mothers and fathers. Her poems propose that though "we earn the favor of being by breaking," the pieces are salvageable; bruises heal from the inside through the universe's infinite surrogacy. The collection contemplates how to tether the salty wounds of sadness, how to find our treeness, and how to say goodbye.
 Praise for Four Blue Eggs
"Like Whitman, Amy Nawrocki gracefully extols the beauty of nature while subtly lamenting our detachment from it. Her elegant writing lends transcendence to our everyday world…"
—Lisa Schwartz, The Newtowner Magazine
"As if she were a weaver at her loom creating a tapestry of Four Blue Eggs, Amy Nawrocki threads the death of her mother into poems that navigate the tension inherent between the heart and mind created by 'the mind's insufficient wiring.' Written with a lyrical but unsentimental voice, Nawrocki crisscrosses generations by describing tactile memories like peeling parsnips during January while 'iglooed' from the cold. Each poem is underpinned with the tenderness Nawrocki displays in a powerful poem, 'Threads,' where she keeps the cat from waking her mother while she is choosing a dress for her cremation….In her struggle to navigate the world and cherish its beauty, in a particularly vivid poem about bees, she observes 'What lasts is not the sting….what lasts is the internal honey.' Ultimately, teaching us to 'flame into the now,' Four Blue Eggs ignites a candle that the heart and mind can follow."
—Vivian Shipley, author of All of Your Messages Have Been Erased and Connecticut State University Distinguished Professor
"Amy Nawrocki's poems celebrate preservation and renewal in New England landscapes. Births, deaths, and the whimsical appearance of the mysterious—all are welcomed as the poet invites us to 'light the light that will unblind us.' Nawrocki is a deft observer of the beauty of work, be it pickling or pulling a quahog from the muck. The weathered and the wasting, too, are treated with wonder by this poet who describes a bygone farm in which pumpkins in a field are 'sitting like children watching a magic show.'"
—Leslie McGrath, author of Opulent Hunger, Opulent Rage
Format: Paperback | ISBN 978-1-938846-17-5 | 110 Pages | Poetry
Amy Nawrocki
Author
Amy Nawrocki is the poetry editor of The Wayfarer and author of five poetry collections, including Four Blue Eggs and Reconnaissance. She is the co-author of A History of Connecticut Food, A History of Connecticut Wine, and Literary Connecticut. She teaches English at the University of Bridgeport and lives in Hamden Connecticut.