The Homebound Publications Audio Division has two new audiobook offerings for your autumn listening. Call of the Sun Child and Listen by award-winning author Francesa G. Varela, as read by Greta Gorsuch!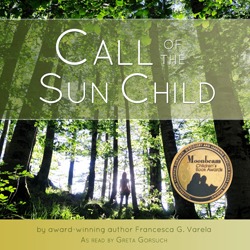 Sempra has lived all of her 16 years in an enclosed dome called the Circadia Stable Living Facility. It is structured, sustainable, and windowless. After the sun grew in intensity, causing society to become nocturnal, it was the only safe place to go. No one remembers the outside world. For 150 years the government has warned them about the deadly sun, and savage, vengeful outsiders. There is only one punishment for any crime: to be exiled from the facility. But Sempra is curious. Beyond those walls, what is there to see? When she and her childhood friend, Alden, discover a forbidden book, she begins to question the facility, and, with it, everything she has ever known. Bronze medal winner for Best First Book at the 2014 Moonbeam Book Awards!
Amazon.com | Audible.com  | Also on iTunes and in Paperback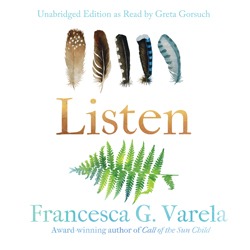 In Listen Francesca tells us the story of May. May is a piano-genius college freshman who dreams of becoming a brilliant composer. In her school's practice rooms she meets Conner, an undeniably unattractive junior, and she is immediately captivated by his raw musicality on the piano. As May tries to navigate college life and fulfill her music dreams, Conner pulls her toward the natural world, toward her own wildness, and, ultimately, toward the wildness within her music as well.
Amazon.com | Audible.com | Also on iTunes and in Paperback