Gunilla Norris' parents were world travelers in the Swedish diplomatic corps and so she grew up essentially in three places: Argentina, Sweden and the United States. As a child she was given a rich exposure to different languages and cultures.
She received her B.A. from Sarah Lawrence College and her M.S. from Bridgeport University in the field of human development. She is a mother and a grandmother. She has been a psychotherapist in private practice for more than thirty years and has felt privileged to accompany many people on their journeys to growth and healing. Her special love has been teaching meditation and leading contemplative workshops of many kinds.
As a writer Gunilla has published eleven children's books, one book of poetry and six books on spirituality including: Being Home, Becoming Bread, Inviting Silence, A Mystic Garden, Simple Ways and Sheltered in the Heart.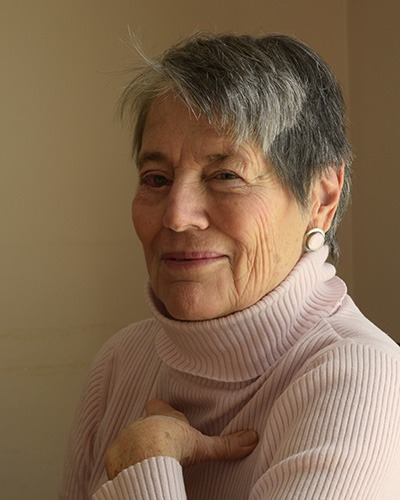 now available
Calling the creatures
978-1953340283 |  Trade paperback | 144pp | List: $18.00
Case Bound Hardcover *Exclusive to Our Store!   | List $24.00
Gunilla Norris has written a book that spans decades of her life. She invites us to wonder what calls us into recollection. It is always a mystery when an inner voice asks for attention. In a long life, that call can be insistent and want a welcome for a vast array of experiences. Gunilla likens this to the calling of farm animals back to the barn after foraging all day which she witnessed in northern Sweden as a child.
Meaningful experiences, be they losses, loves, queries or epiphanies, want sanctuary. If the doors of the heart are open, the recollections can enter again, come back home so to speak and be recognized as the poems of a life.
 _______________________
Available in Paperback and ebook.
*Receive 20% off when you purchase in our store
+ Free shipping on orders over $40.00 with coupon code: INDIESTRONG
award-winning
Sheltered in the heart
978-1938846496 |  Trade paperback | 134pp | List: $16.95
2013 Pushcart Prize Nomination
Finalist 2013 Foreword Review Book of the Year Award
2014 Nautilus Book Award Silver Medal 
Winner 2013 Foreword Review Book of the Year Award Finalist 
Winner of the 2014 Next Generation Indie Book Awards, Best Spiritual Title
To have the deep love of a friend is to have the shelter in which to embody more and more of the essence that we each are. In her book Gunilla Norris shows how in holding each other with trust and compassion our shells fall away and we emerge into the world as freer beings. Participating in a true friendship is profound and holy work. This book is a gift for the journey.
 _______________________
Available in Paperback and ebook.
*Receive 20% off when you purchase in our store
+ Free shipping on orders over $40.00 with coupon code: INDIESTRONG
Readers can order books directly from Homebound Publications & Divisions online where we have the never-ending sale. You can always save 20% on your entire order coupon code: INDIESTRONG  + free shipping on orders over $40 with .
Retailer? All Homebound Publications titles are distributed by Publisher's Group West, and are available through wholesalers such as Ingram and Baker & Taylor.
Your donations will be placed towards expanding the number of titles we are able to accept each year, giving a voice to the countless independent thinkers currently neglected by the mainstream media. Now, more than ever, your support is appreciated. 
LEARN MORE ABOUT THE GIFTS YOU GET FOR GIVING
info ‹at› homeboundpublications.com
Postal Box 1442, Pawcatuck, CT 06379-1442
Passionate about independent storytellers? 

Join the circle.

Reach out to us . . . Send an email. (GASP) Pen a letter. Reach out to an authors. Ask a question. Tell us your story . . . Donate toward our future (if you are so inclined) . . . Just reach out to us. We are a community, not a company and you are a part of that community.