Gail Collins-Ranadive, M.A., M.F.A. MDiv.
By the time the author spent a sabbatical year on the South Rim of the Grand Canyon (where her latest book Inner Canyon takes place), she had been a psychiatric nurse, a military wife, a private pilot, a religious educator, a writing teacher, a workshop facilitator, an adjunct professor, and an interim minister. She had also authored two non-fiction books: If You'd Been Born in India (for children), and Finding the Voice Inside.
 Four years after her sabbatical, she returned to the Canyon during a personal and professional crisis, seeking guidance. Hiking down to a favorite outcropping of rock, she sat in the deep silence until, as clearly as the voice of a friend over coffee, she heard:
"You are a writer. You need to be writing."
She promptly retired from ministry to focus on the manuscripts that had been shapeshifting on her desk for decades. Since then, she has published Hopi Birth Morning (with a Hopi elder), Light Year, Chewing Sand, Nature's Calling, A Fistful of Stars, and Dinosaur Dreaming. She also writes the biannual environmental column for The Wayfarer, and sponsors the Prism Prize for Climate Literature, both divisions of Homebound Publications.
Mother of two and grandmother of five, she and her partner spend winters at her home in Las Vegas and summers at his home in Denver. She is currently working on a memoir and a novel.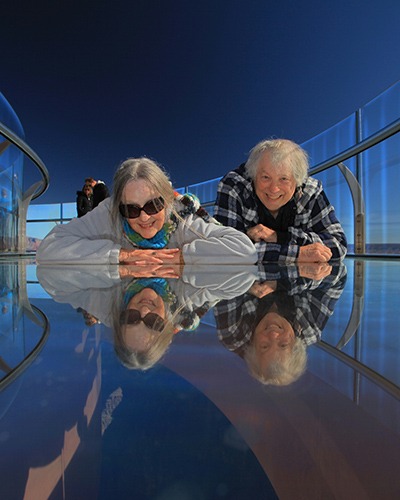 now available
inner canyon
978-1953340122 |  Trade paperback | 5 x 7 | 140 pp | List: $16.95
Few people get to spend extended time visiting the Grand Canyon. This is just as well, for coming to know the Canyon in any intimate way can change your life….and who needs that!? It would be far safer to simply follow this author as she finds herself captivated by the Canyon and compelled to arrange for a part-time sabbatical year on the South Rim. So lace up your virtual hiking boots and come experience the Canyon's geography, geology, ecology, climatology, sociology, psychology, theology, paleontology, and politics through the lens of Deep Time as Sacred Space. Fair warning: the author secretly hopes that the Canyon will work its magic on you as if you too were actually there!
_______________________
Available in Paperback and ebook.
*Receive 20% off when you purchase in our store
+ Free shipping on orders over $40.00 with coupon code: INDIESTRONG
award-winning
dinosaur dreaming
978-1947003668 |  Trade paperback | 5 x 7 | 140 pp | List: $15.95
Wherever you are in your response to the crises of the changing climate, the warming world, and the extinction of species at the hands of humans, you are not alone. And you are not powerless. As more and more of us acknowledge the looming catastrophe, this realization moves us from private despair to public demands, from personal angst to political activism. For unlike the dinosaur victims of the last mass extinction, we humans have more options than fight, flight, or freeze: we can figure out and fix what we've unwittingly unleashed.
_______________________
Available in Paperback and ebook.
*Receive 20% off when you purchase in our store
+ Free shipping on orders over $40.00 with coupon code: INDIESTRONG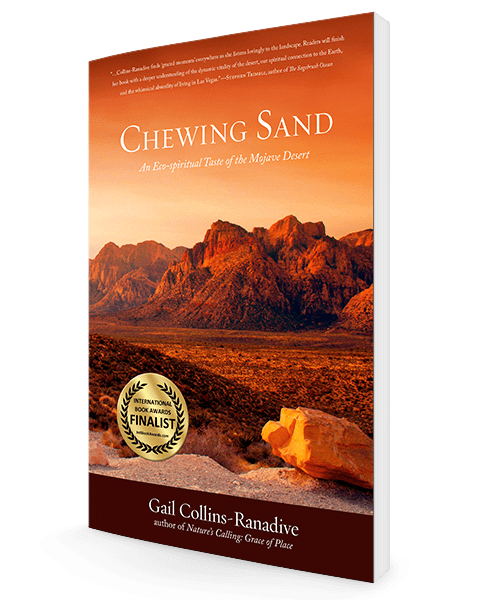 by Gail Collins-Ranadive
What happens when an Easterner who needs trees, hates heat, and doesn't gamble spends a year living in Las Vegas? Follow the author's reflections as she comes to appreciate the surrounding desert so deeply that she returns seven years later to hear more of the Mojave's message. Share in the process as this desert reveals itself as both a macrocosm and a microcosm of the major issues facing us today. For as a sacred text set in the perspective of deep time and clarified by silence, the Mojave landscape has the power to move us humans from an ego-self to an eco-Self awareness.
by Gail Collins-Ranadive
We are made up of star stuff! This elegant idea became tangibly real when the liberal clergy author was handed a cottonwood twig with a tiny star hiding inside. Gathering up fists full of these star sticks, and in collaboration with her 'rocket scientist' partner, she set out to reframe the human experience within its cosmic context. Here she shows how living in communion with the cosmos can affect the way we live in community, understand ourselves, and connect with the Source of all Becoming. In the addendum, she invites readers to add to the evolving new cosmic narrative of living 'from ashes to ashes, dust to dust, star stuff to star stuff.'
by Gail Collins-Ranadive
Steeped in the faith tradition of the American Transcendentalists (the majority of whom, like Emerson, were Unitarian ministers) the author's own spiritual life was likewise grounded and guided by nature. So of course she said yes to a career in interim ministry that would require her to relocate every summer. What would each new landscape, from Nevada to Vermont to Colorado to Arizona to South Carolina to Maine, have to teach her spirit? After all, there was more to learn from nature than could be found in New England, wasn't there?
Readers can order books directly from Homebound Publications & Divisions online where we have the never-ending sale. You can always save 20% on your entire order coupon code: INDIESTRONG  + free shipping on orders over $40 with .
Retailer? All Homebound Publications titles are distributed by Publisher's Group West, and are available through wholesalers such as Ingram and Baker & Taylor.
Your donations will be placed towards expanding the number of titles we are able to accept each year, giving a voice to the countless independent thinkers currently neglected by the mainstream media. Now, more than ever, your support is appreciated. 
LEARN MORE ABOUT THE GIFTS YOU GET FOR GIVING
info ‹at› homeboundpublications.com
Postal Box 1442, Pawcatuck, CT 06379-1442
Passionate about independent storytellers? 

Join the circle.

Reach out to us . . . Send an email. (GASP) Pen a letter. Reach out to an authors. Ask a question. Tell us your story . . . Donate toward our future (if you are so inclined) . . . Just reach out to us. We are a community, not a company and you are a part of that community.