Author Gunilla Norris reflects on what inspired her to write her upcoming book, Sheltered in the Heart: Spirituality in Deep Friendship.
It has been my experience that a book begins inside me long before I am aware that I want to write it. Meaningful experiences gestate inside, and suddenly one day I get a physical sensation that tells me that something wants to be articulated. Over time I have grown to trust that sensation and listen to it. When I have listened long enough and well enough I begin to write and learn what it is that wants to be said.
I am in my mid seventies now— a ripe old age. When one is this old it is natural to cast a long and truthful look at what one has lived. Having done so for some time I knew my book on friendship was announcing itself. I felt pregnant with it. Deep and lasting friendships have been part my life since I was just five years old. I am still friends with my first ever friend, and we live in two different continents! This subject seemed so rich and worth exploring. I wanted to make it as conscious as I could.
How miraculous it feels to me that such strong and loving bonds can be made at all, and that, as much as family, they have gained more and more meaning for me. I simply had to write about it. And I did. I wrote the book in three or eve four different versions until it seemed to be what it was meant to be. Sometimes I wanted to throw in the towel. But the importance of friendship is not a unique experience and I wanted so much to be in the company of others who feel as I do. I suspect there are many. So, in that to me invisible company, I wanted to share my ideas about friendships. The more I wrote the more I understood that for me there is a radiant spiritual component to these relationships. I believe our deepest nature is illuminated when we are truly met and befriended by another human being. It is a gift and a solace.
Looking at this gift was such a pleasure. I realized again how much those who have been close to my core have taught me about love and commitment. To be known as a trusted friend is one of the most precious things we can give one another. It takes us past the gates of pain, loneliness and fear. It helps us celebrate our joys with gusto. It lets us step not only into our authenticity but also into mystery. I want this book to be a tribute to my friends. I also want it to be a tribute to the Spiritual in friendship. I hope my readers will love the ideas and meditations in this book and that they will share Sheltered in the Heart with those they in their turn carry in their hearts.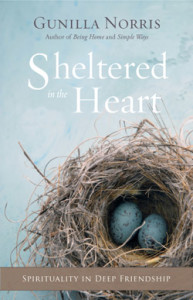 About the Book: To have the deep love of a friend is to have the shelter in which to embody more and more of the essence that we each are. In her book Gunilla Norris shows how in holding each other with trust and compassion our shells fall away and we emerge into the world as freer beings. Participating in a true friendship is profound and holy work. This book is a gift for the journey.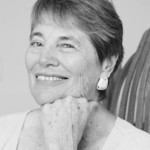 About the Author: Gunilla Norris' parents were world travelers in the Swedish diplomatic corps and so she grew up essentially in three places — Argentina, Sweden and the United States. As a child she was given a rich exposure to different languages and cultures. She received her B.A. from Sarah Lawrence College and her M.S. from Bridgeport University in the field of human development. She is a mother and a grandmother. She has been a psychotherapist in private practice for more than thirty years and has felt privileged to accompany many people on their journeys to growth and healing. Her special love has been teaching meditation and leading contemplative workshops of many kinds. As a writer Gunilla has published eleven children's books, one book of poetry and six books on spirituality including: Being Home, Becoming Bread, Inviting Silence, A Mystic Garden and Simple Ways.
Sheltered in the Heart is now available to pre-order exclusively in our bookstore. And remember, like with all our titles, if you pre-order through us we will send your book a full two weeks before the official release! Visit Gunilla's page in our store.»