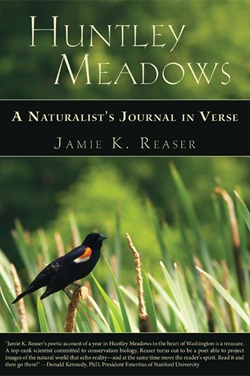 Huntley Meadows
A Naturalist's Journal in Verse
Jamie K. Reaser, with a forward by David S. Wilcove
Watching an individual leaf
waltz its way down
from blue can't be
any less miraculous than
birth.
Praise for Huntley Meadows
"Jamie K. Reaser's poetic account of a year in Huntley Meadows in the heart of Washington is a treasure. A top-rank scientist committed to conservation biology, Reaser turns out to be a poet able to project images of the natural world that echo reality—and at the same time move the reader's spirit. Read it and then go there!"
—Donald Kennedy, PhD, President Emeritus of Stanford University
"In the lineage of Oliver, Stegner, Lopez and Thoreau, Jamie K. Reaser's exquisite year-long record, Huntley Meadows, guides us as readers to a sacred return. In this living homage to fur, feather, scale and root we remember the deep love possible for a place through the seasons. The spirit of a shaman-poet and the keen eye of a naturalist come together in these pages. The end result is a collection of verses wherein a special place is given a voice. Listening to such voices offers all of us resurrection and renewal."
—Frank Owen, creator of the online poetry experience, nekyia.poetry
"Jamie K. Reaser's poems transport you into the natural world of Huntley Meadows, a magical place in the heart of the DC Metropolitan area. Her words are a welcoming awakening to a sense of nature, something many of us are losing and trying to regain."
—Gabriela Chavarria, PhD, Director of National Resource Defense Council (NRDC) Science Center
"Soulful and delicious appetizers of poem that make you want to visit Huntley Meadows every day and see what Dr. Reaser has seen. She makes the invisible suddenly visible, and beautiful."
—Kevin Munroe, Huntley Meadows, Park Manager
Jamie K. Reaser
Author
Jamie K. Reaser has a deep fondness for the wild, intimate, and unnameable. She received a BS in Field Biology, with a minor in Studio Art, from the College of William and Mary and her doctorate in Biology from Stanford University. She has worked around the world as a biologist, international policy negotiator, environmental educator, and wilderness rites- of- passage guide. She is also a practitioner and teacher of eco- psychology, nature- based spirituality, and various approaches to expanding human consciousness, as well as a poet, writer, artist, and homesteader- in- progress. Jamie has a passion for bringing people into their hearts, inspiring the heartbeat of community, and, ultimately, empowering people to live with a heart-felt dedication to Mother Earth. Her writing explores themes at the interface of Nature and human nature. She is the editor of the Courting the Wild Series, as well as the author of Huntley Meadows: A Naturalist's Journal in Verse, Note to Self: Poems for Changing the World from the Inside Out, Sacred Reciprocity: Courting the Beloved in Everyday Life, Wild Life: New and Selected Poems, and Winter: Reflections by Snowlight. Jamie is a Fellow of the International League of Conservation Writers. She makes her home in the Blue Ridge Mountains of Virginia.