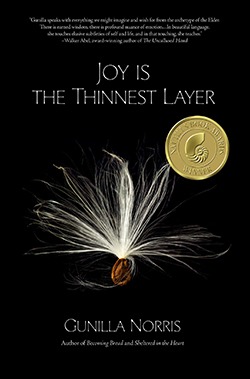 Joy is the Thinnest Layer
Poems by Gunilla Norris
List Price: $16.95 | Paperback | 6 x 9 | 112 Pages | Poetry/Mind, Body, Spirit
Overview
When the heart is touched it wants to sing songs of recognized experience. Call it poetry for then image, cadence and word melt together as one. This book of poems is about such experiences. That depth of feeling encompasses both desolation and consolation and so brings the reader close to the pulse of life, to joy, the thinnest layer.
Praise for Joy is the Thinnest Layer
"In this book of poems, Gunilla speaks with everything we might imagine and wish for from the archetype of the Elder. There is earned wisdom, there is profound nuance of emotion, there is the distillation of insight into nuggets of immense clarity. In beautiful language, she touches elusive subtleties of self and life, and in that touching, she teaches."
–Walker Abel, award-winning author of The Uncallused Hand
"This collection of poems courageously reflects on the passage of time giving us fleeting though abiding glimpses of grandparents, of war, of leaving home, growing up and aging all the way to the farther edges of a life, where we are '[a]sked to be more than we can be,' and then, 'we snap, and are abducted to some enormous distance, a vastness without end.' Gunilla Norris guides us with a steady hand and eye to the touch and look of a life full-lived, and with an ear so tuned to the trembling presence of things, 'It's like listening to listening.' Her poems astonish by how close they take us to the losses, the joys, the delights of the flesh and its ever-perishing, where we might '…feed / like an open mussel / hidden in river silt…' celebrating the details not by being told about them, but by each poem's enactment of that for which it speaks. Over and over again, the reader is invited into that evanescent and complex joy '… of dissolution / where nothing can be done / but the pouring / of oneself back / down again / into everything,…'"
–Gary Whited, award-winning author of Having Listen
Gunilla Norris
Author
Gunilla Norris, a psychotherapist in private practice for forty years, has had the privilege of accompanying many people on their journeys to growth and healing. Her has taught meditation and led contemplative workshops of many kinds. She has published eleven children's books, two books of poetry and eight books on spirituality: Being Home, Becoming Bread, Inviting Silence, Embracing the Seasons, A Mystic Garden, Simple Ways, Match, and Sheltered in the Heart. Homebound Publications releases Companions on the Way this Fall.