April is National Poetry Month! We're celebrating with the release of Amy Nawrocki's new offering Reconnaissance. In her latest collection, Amy Nawrocki plays voyeur and thief, surveying canvases and investigating bookshelves, searching for creativity's origins and exploring the nature of inspiration. The poems in Reconnaissance uncover muses between the frayed pages of Byron and Shelley, in Chagall's stained glass, at Oscar Wilde's grave, past the deep bogs of Glencoe, and in the far away snow caps of Mount Fuji. In these insightful and elegant poems, Nawrocki invites us to believe in "the authenticity of first sight." Open the paint box and learn how to stare.
Look for Reconnaissance in paperback and ebook, on Amazon, Kindle, and Nook or ask for it in your local indie bookstore.
Justifying the Ways of Animals to God
Having little or no knowledge
about the fall of man,
the boy approaches the ringneck
with the zeal of a crusader
without pausing, as there is
nothing eternal to consider.
The confession had been shed already:
flaky, transparent skin hidden
beneath a rug in the unheated summer room—
the yellow necklace collaring
a brand-new black form.
The saga unfolds quietly
unaided by the dramatic pauses
of scripture nor capped off
with sermons on forgiveness.
The bite is swift, but not final:
there must be suffering.
Rebellion, pride, seduction—
these do not enter the minds of snakes
and a cat cannot tell a fallen angel
from a demon dancing
in the living room's haloed light.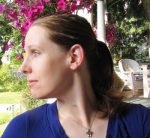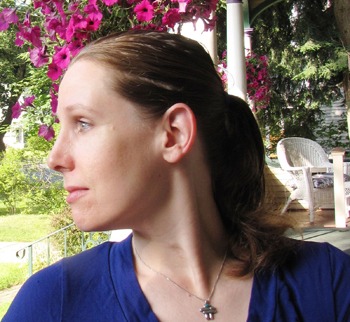 Amy Nawrocki is a Connecticut native, raised in Newtown and now living in Hamden. She earned a Bachelor's degree from Sarah Lawrence College and a Masters of Fine Arts from the University of Arkansas. She has received numerous honors for her poetry, including awards from the Litchfield Review Poetry Contest, the Codhill Chapbook Competition, The Loft Anthology, Phi Kappa Phi, New Millennium Writings, and the Connecticut Poetry Society. Finishing Line Press published her three chapbooks: Potato Eaters, Nomad's End, and Lune de Miel. With her husband, Eric D. Lehman, she wrote A History of Connecticut Wine, A History of Connecticut Food and A Literary History of Connecticut. She teaches English and Creative Writing at the University of Bridgeport and is mother to two cats, Maple and Django.