Karina Lutz
Award-winning author of Preliminary Visions
Karina Lutz worked as an environmental activist to help secure passage of sustainable energy legislation, thwart a proposed megaport, and restore wetlands in her home watershed of Narragansett Bay, RI. She helped launch a nonprofit green power company and is currently collaborating to form an intentional community, Listening Tree Cooperative, practicing permaculture in northwest Rhode Island. With an MSJ from Medill School of Journalism, she has worked as an editor, reporter, magazine publisher, and in nonprofit communications.
Visit her at: www.karinalutz.wordpress.com.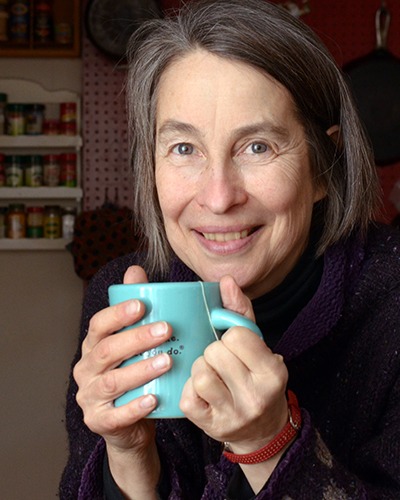 Preliminary Visions creates moments of being, moments of relation, moments of meaning-making—frequently with a sense of being observed by silent witnesses. The poems relationality blurs the imaginary outlines of the separate self, and provoke a sense of the ecological self.
"This is true poetry, combining a haiku-like perception of a pregnant moment or scene with a fine attunement to the sound and flow of words. Karina's poems offer images of moments that speak to both heart and mind, moving from her own life experiences and challenges to the crises humanity faces today, with all the confusion, grief, rage, and insight that arise in response."
–Molly Brown, author of Growing Whole: Self-realization for the Great Turning
"If memory and poetic craft orient us—in Karina Lutz's Preliminary Visions—to the natural spaces and events that define our lives, then an abiding commitment to recording in radiant forms and language make a useful wisdom of her protean efforts; which means this fine collection of poetry, questing toward immanence and illumination, is a necessary read for those of us who value wonder."
–Major Jackson, poetry editor, Harvard Review, author of Roll Deep
info ‹at› homeboundpublications.com
Postal Box 1442, Pawcatuck, CT 06379-1442
Passionate about independent storytellers? 

Join the circle.

Reach out to us . . . Send an email. (GASP) Pen a letter. Reach out to an authors. Ask a question. Tell us your story . . . Donate toward our future (if you are so inclined) . . . Just reach out to us. We are a community, not a company and you are a part of that community.