meera ekkananth klein
Award-winning author of My Mother's Kitchen and Seeing Ceremony
Meera Ekkanath Klein has combined her love of cooking and story-telling in her latest book Seeing Ceremony, a sequel to the award-winning My Mother's Kitchen: A Novel with Recipes (Homebound 2014). When she is not in the kitchen or at her computer, she can be found picking out the freshest produce and ripest fruit at the local Farmers' Market.
Klein's short stories and poems have been published in online and print magazines and she is a reviewer for the New York Journal of Book. She lives in Davis, CA with her husband and has two grown sons.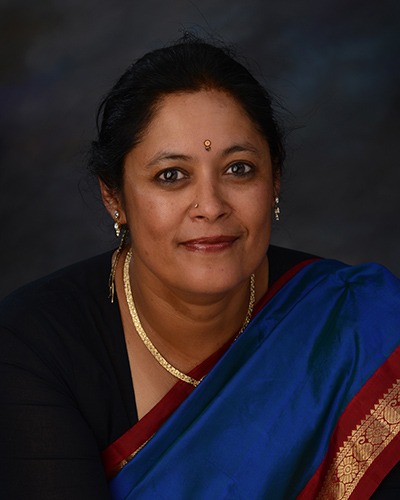 Latest Release
Seeing Ceremony 
Paperback | Size: 5.5 x 8.5 | Length: 270 pgs |  List Price: 17.95
This feel-good sequel to the award-winning My Mother's Kitchen is all about family, good food, love and finding the way back home. Since the death of her husband three years ago, Meena's mother has wanted to see her oldest daughter married and so she organizes Meena's "seeing ceremony," a ritual associated with arranged marriages. However, eighteen-year-old Meena is not ready to be married and wants to leave her hilltop home in Mahagiri, south India, and attend college in California. The ceremony is a disaster. Her four years in America soon comes to an end and Meena is eager to return home and share her newly-acquired knowledge of agriculture and tea production with her family. On her journey back to India, Meena meets handsome businessman Raj Kumar with whom she has an instant connection. They end up talking for hours in the airport lounge. When they part at the departure gate, Meena doesn't think she'll ever see Raj again. Back in Mahagiri, her mother faces a threat to her home and livelihood. Meena could avert this disaster by agreeing to an arranged marriage. Will Meena have to go through yet another "seeing ceremony?"
_______________________
Available in Paperback.
*Receive 20% off when you purchase in our store
+ Free shipping on orders over $40.00 with coupon code: INDIESTRONG
Praise for seeing ceremony
"Seeing Ceremony is a rich coming of age novel, full of myth and legend, romance, and the heady tastes and scents of India. It is a love letter to both place and family–the ingredients that make home home. Meera Klein is a natural born story teller–I felt as if I were sitting at the kitchen table as she told me this story–and Seeing Ceremony is truly a feast for ALL of the senses. A true delight. -Louise Miller, author of The Late Bloomers' Club and The City Baker's Guide to Country Living
l roads eventually lead home? Meena has loved being home but she had grown restless. She is desperate to leave her home town and spread her wings abroad. Her mother however has another plan. 
In this sequel to
My Mother's Kitchen
, Meena dreams of going to study in the US. However, her ambitions seem out of reach when her mother insists she meet a husband through the traditional seeing ceremony. With this, Meena feels more trapped by the second.
Then fate gives her a helping hand and she gets her wish. 
When she returns from New York four years later, the familiar merges with inevitable change. 
In this journey of self discovery, Meena begins to  wonder whether what she was seeking was closer to home all along. 
With accompanying recipes,
Seeing Ceremony
brings back much loved characters and of course, loads of good food. 
Seeing Ceremony
merges new with the traditional. It's one girl's journey for self-discovery that is full of all kinds of love and of course, the food! I loved every moment.
-Laura Parish, 
Novel Kicks 
"There's a bravado in Meera Klein's Seeing Ceremony, as expansive a courage as there is in eighteen-year old Meena, a daughter determined to reject an arranged marriage in tradition-bound Indian culture where elders match a groom by religion, profession, caste, and horoscope.  Klein's rhythmically mastered cadence follows Meena's pilgrimage to independence with an extravagant feast of sensory imagery, from taro roots and the Keatsian-styled spice scents of biryami and cardamon to the metaphoric ritual of devotees walking Irumudi sacks up the 18 steps of the Ayappan Temple. You will be seduced if not educated by the intertwining narratives of change as the primal force that brings her back to her beloved Mahagiri, a fertile place of hope and renewal, the very qualities that define this wondrous book."

–

James Ragan, 

author of

 The Hunger Wall
Award-winning
My Mother's Kitchen
Paperback | Size: 5.5 x 8.5 | Length: 266pgs | List Price: $17.95
Finalist in the 2015 Beverly Hills International Book Awards
Finalist in the 2015 National Indie Excellence book Awards
"A delicious read filled with delectable recipes." –Padma Venkatraman, award-winning author of Climbing the Stairs, Island's End and A Time to Dance
My Mother's Kitchen is an enchanting place filled with promise, change and good food. If the weathered walls of this magical room could talk they would tell the story of Meena and her childhood life. Each chapter is a slice in her young life and depicts her spunk and youthful spirit. A visit to the local Fruit and Flower Show becomes an adventure as told by Meena. Her distress at finding out about her aunt's dark secret or her joy of making a new friend are all told in her naïve, yet pure voice. Her mother is a central character in her life and it is no wonder that the kitchen is a special place of healing and rejuvenation, not only for Meena but for other characters like Kashi and Ayah. 
_______________________
Available in Paperback and ebook.
*Receive 20% off when you purchase in our store
+ Free shipping on orders over $40.00 with coupon code: INDIESTRONG
info ‹at› homeboundpublications.com
Postal Box 1442, Pawcatuck, CT 06379-1442
Passionate about independent storytellers? 

Join the circle.

Reach out to us . . . Send an email. (GASP) Pen a letter. Reach out to an authors. Ask a question. Tell us your story . . . Donate toward our future (if you are so inclined) . . . Just reach out to us. We are a community, not a company and you are a part of that community.