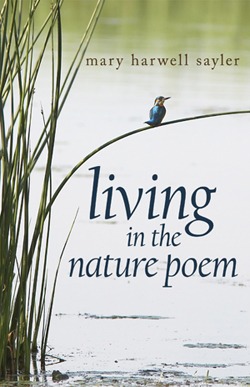 Living in the Nature Poem
by Mary Harwell Sayler
Overview
This col­lec­tion con­nects us to our­selves, each other, and the earth. As an impor­tant part of our own envi­ron­ments, we're also part of the complexities of nature, including human nature and those odd thoughts and moments that bring humor, wonder, per­plexity, and prayer.
Praise for Living in the Nature Poem
"In Living in the Nature Poem, Mary Sayler gives us more than just a journal of the nat­ural world: she gives us an inter­ac­tion with a world pop­u­lated by char­ac­ters as diverse as cells and stars. Exploring biology, astronomy, and soci­ology, Sayler writes ele­gantly about the 'uni­versal need known to artists, chil­dren, poets,/who, poised in mys­tery, must/ watch and wait and wonder.' And she does it with a nice helping of humor, describing human tissue as 'cliques that become/ known as Bone, Gland, Organ,/ Blood, Artery, Vein,' and recounting her battle with a bug in amus­ingly the­o­log­ical lan­guage. Living in the Nature Poem is a good read by an inspired writer, one who knows her craft and plies it well."
— Annmarie Lockhart, Editor, vox poetica
"In her book Living in the Nature Poem, Mary Sayler gives us poems that explore the taste of mind, body and soul that are crafted with sophis­ti­ca­tion, wit and an emo­tion­ally sat­is­fying rhythm. It is an exciting read. "
— Alice Shapiro, Poet Laureate of Douglasville, Georgia
"Mary Harwell Sayler allows us the oppor­tu­nity to see the nat­ural world and nature poetry from a fresh perspective."  — Dana K. Cassell, Executive Director, Writers- Editors Network
"Not all the poems in this rich col­lec­tion focus on flora and fauna…Yet all the poems in Mary Sayler's book are like the shops on the harbor which "soften / into pastel hues / smudged by a flamingo– / pink sun until every pane / of window glass / turns peach- tinged, then / coral, then / rose- colored / and totally believ­able." This book is highly recommended."
— Yakov Azriel, poet and author ofThreads From A Coat Of Many Colors and In The Shadow Of A Burning Bush
Sleeping with the Universe
Beyond the action of cre­ation
lies a great repose. You can
see this in a wild­flower – the
closing of petals in tight lashes
against a lidded night – or in the
breaths between a burst of bird–
song: this lull unknown to highly
cul­ti­vated peo­ples, places, plants.
You can see it today in the falling
away, overnight, of leaves from
the live oak, exposing an amazing
maze of boles, ter­minal buds, and
holes for nesting in the dark. You
can see this in the gar­denia – its
leaves cold- snapped into crack­ling
paper curled to pro­tect the tender
growth – or in the dust flecks
resting on the pocked marble- top
table or in the hush of the porch
rocker or in the sag of a tele­phone
wire or in the pul­sating of a star.
All attest to this uni­versal need
known to artists, chil­dren, poets,
who, poised in mys­tery, must
watch and wait and wonder.
– Excerpt from Living in the Nature Poem
Mary Harwell Sayler
Author
Mary Harwell Sayler began writing poems as a child but, as an adult, wrote almost everything except poetry. Although her publishing credits of two dozen traditionally published books (Zondervan, B&H, CSS, Chelsea, Facts on File, etc.) explore a wide range of interests in fiction, nonfiction, devotionals, and children's books, her first book of poetry, Living in the Nature Poem, came out in 2012 when she found a fitting home in the environmentally- aware publisher Hiraeth Press. As a lover of God, nature, and almost everything living, Mary hopes these poems will encourage readers to reconnect with the natural world, spiritual world, and their own body cells.
Connecting with the Body of Christ matters greatly to her too. As a lifelong lover of the Church in all its parts and the Bible in each English version, Mary encourages Christian Poets & Writers (editors, artists, and publishers too!) in their work through the group she began on Facebook. For her own work, she continues to focus on researching and writing blogs, devotionals, and poetry, especially poems on Bible people, prayers, parables, and other biblical themes.