Lunar Eclipse/Cosmic Christmas
A Selection from Chewing Sand: An Eco-Spiritual Taste of the Mojave Desert
Much of what we do over the winter solstice reflects a fascination with the cosmos. Take, for instance, the popularity of the poinsettia plants that appear in stores for only this season. Brought from Mexico by our first ambassador there, Dr. Joel Poinsett (I've visited his historic home in Charleston, S.C.), its blossoms delight us because they're the shape of the stars.
And of course the lit Christmas tree that has become the centerpiece in many of our homes originated with Martin Luther when, as the story goes, he was inspired by the sight of tall evergreens against the starry sky. So he cut a fir, brought it home, and placed lighted candles on its branches for his family.
Plus there's the image of Santa's ride against the night sky: an incarnation of a Scandinavian god who rode through the world at midwinter, bringing reward or punishment. Perhaps we pay attention to the starry sky of this season because there are more hours of darkness, and the fallen leaves have opened up great swaths of empty space.
For as Lewis Mumford suggests: probably we humans were sky conscious and season conscious long before we were self-conscious. Thus, in this season of shortest days and longest nights, perhaps something in our DNA connects us back to our ancestors who shivered in the cold and darkness for far longer in human time than we've been cozy and warm during our long winter nap.
Maybe our dreams of a white Christmas are memories of that reflective 'aha' during the last Ice Age 'when something within humans turned back on itself and took an infinite leap forward,' as Teilhard de Chardin put it.
In that threshold moment, all human potential became possibility, from crops to civilization to spacecraft.
With that in mind and in honor of the season, I bundled up to sit outside in the cold darkness of a predawn in order to watch a lunar eclipse. As my mug of coffee kicked in, I suddenly remembered that I have a spotting scope. Looking through it called forth a WOW! that I couldn't suppress, even in my concern over awakening sleeping neighbors. WOWI indeed!!
And I thought of Galileo turning his spy glass from enemy ships on the horizon to the lights dotting the heavens: how he confirmed Aristarchus's observation, made back in 280 B.C., that the sun, not the earth, is the center of our planetary system.
Aristarchus had figured that out while watching a lunar eclipse!   From the size of the earth's shadow on the moon, he deduced that the sun had to be much larger than the earth, and, therefore, it made no sense for the sun to revolve around a smaller body.   Thus he put the sun in the center, with the planets in orbiting around it.
We've been trying to live into that realization ever since! We still say the sun rises and sets, while knowing full well that WE are doing the moving. Perhaps it is easier at the winter solstice to grasp the notion, the motion of our earth orbiting its star, especially if/when we can take time to stand still, stand still in the starry darkness and make a Christmas wish.
For long before this season became about enhancing retailers' bottom line, or giving a 'vitamin shot to Wall Street,' and even before it was about the birth of the Son, the winter solstice celebrated the wonder of the our star, the Sun.
---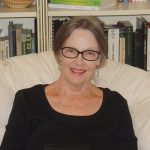 About the Author: For Gail Collins-Ranadive, writing has always been the best way to stay centered and make sense of life's experiences: from being a nurse to earning a private pilot's license; from visiting with in-laws in India to spending time with a friend living in Nicaragua before and after the revolution there; from earning a degree in Peace Studies as a military spouse to lobbying for federal funding of the U.S. Institute of Peace; from creating a women's writing workshop as part of an M.F.A. in Creative Writing to winning a grant to publish it in book form; from earning an M.Div. to doing ordained interim ministries all across the continent; from growing up the oldest of eight to mothering two daughters to becoming a grandmother of four granddaughters and one grandson. An Easterner by birth, she currently spends winters at her home in Las Vegas, summers in her partner's home in Denver….always writing, writing, writing.