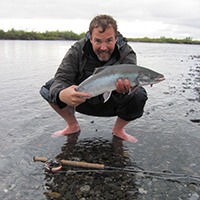 Matthew Dickerson
Matthew Dickerson (www.matthewdickerson.net  and www.troutdownstream.net ) was a June 2017 artist-in-residence at Glacier National Park and a May 2018 artist-in-residence at Acadia National Park. He is the author of several works of fiction and creative non-fiction, as well as literary explorations of mythopoeic literature with a particular focus on environmental aspects of the writings of J.R.R.Tolkien and C.S.Lewis.
His previous narrative non-fiction nature writing includes several books about rivers and the trout that dwell in them : Downstream: Reflections on Brook Trout, Fly Fishing, and the Waters of Appalachia, Trout in the Desert: on Fly Fishing, Human Habits, and the Cold Waters of the Arid Southwest, and A Tale of Three Rivers: of Wooly Buggers, Bowling Balls, Cigarette Butts, and the Future of Appalachian Brook Trout. His most recent novel is a work of medieval historical fiction titled The Rood and the Torc, set in 7th-Century Europe and inspired by a fragment of the medieval poem Beowulf. He is also the co-author of Ents, Elves, and Eriador: the Environmental Vision of J.R.R.Tolkien, Narnia and the Fields of Arbol: the Environmental Vision of C.S.Lewis, and From Homer to Harry Potter: a Handbook of Myth and Fantasy.
Dickerson has also written essays for several periodicals ranging from literal journals to fly fishing magazines, including: Written River, Image, The Other Journal, Middlebury Magazine, Books and Culture, Creation Care, Eastern Fly Fishing, and The Drake.  He is a professor at Middlebury College in Vermont where he has had affiliations with the Computer Science Department, Environmental Studies Program, Writing Program, and the New England Young Writers Conference at Bread Loaf.