Mark Daniel Seiler is an award-winning author and musician who lives on the island of Kaua`i. His debut novel, Sighing Woman Tea was a winner at the Pacific Rim Book Festival 2015, nominated for the Kirkus Prize, and Foreword Reviews Indies finalist. Mark's second novel, River's Child, was awarded the Landmark Prize for fiction, Silver Nautilus Award, da Vinci Eye finalist, Eric Hoffer Award Short List, Next Generation Indie Book Award Finalist, Literary Titan Book Award, National Indie Excellence Award Finalist, Independent Press Award Distinguished Favorite, CYGNUS Book Awards for Science Fiction Finalist, Reader Views Reviewer Choice Award. Mark describes himself as a lifelong learner, who got a very late start.
Visit Mark at www.markdanielseiler.com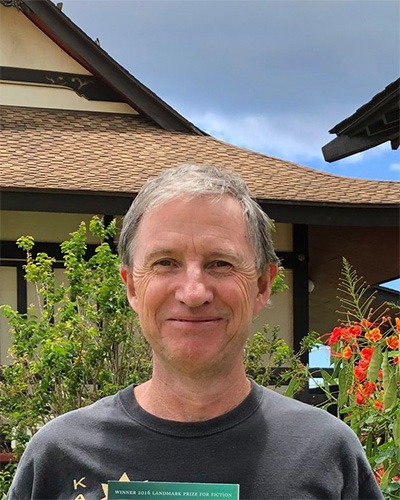 award-winning
river child
About 978-1947003392 | 5.5 x 8.5  |  300pp |   Trade paperback | List: $18.95
Awards:
Landmark Prize Winner Literary
Titan Golden Award Winner READER VIEWS
Literary Award Winner FOREWORD BOOK OF THE YEAR AWARD
Finalist Eric Hoffer
Award Finalist Da Vinci Eye
Finalist IAN Book of the Year
Finalist NEXT GENERATION Indie Book Award
Finalist NATIONAL INDIE EXCELLENCE AWARD
Finalist CIPA EVVY AWARD First Place Independent Press Award Distinguished Favorite CYGNUS Award Finalist
About: Trapped underground in the Svalbard Seed Vault, Mavin Cedarstrom is rescued by a band of strange women dressed in furs. The Peregrine scout Simone Kita was sent to recover seeds from the top of the world and bring them south to the floating gardens of Kashphera. Conjuring myth and magic, this fun, action-packed novel is a delight. River's Child is a wild ride into an ancient future.
"River's Child is the best summer read since the Rig Veda." Fasten your seat belt as our spirited heroes ride icebergs from the frozen north, battle wild men, and fall in love while they race to prevent world war. "Seiler presents a strange and ingenious mix that is part The Road, part Dune. . . This book delivers an inventive and eerie future." —Kirkus Reviews
_______________________
Available in Paperback and ebook.
*Receive 20% off when you purchase in our store
+ Free shipping on orders over $40.00 with coupon code: INDIESTRONG
now available
Shave ice paradise
978-1947003682 | 5.5 x 8.5  |  250pp |   Trade paperback | List: $18.95
Kirkus – 9 Best Beach Reads 2020

Top 100 Books Shelf Unbound

Book Excellence Award Finalist
Following her aunt's suspicious death, Gina Mori, daughter of a Buddhist minister, searches for a missing handbag and discovers the dark underbelly of paradise. In the course of her investigation, Gina falls for Julius, a stream biologist who has recently moved to Hawaii. After discovering her lover's secret past, Gina must confront her own demons. A local girl stuck in a dead-end job, Gina stalks corrupt officials, exposes shady land deals, until at last, she comes face to face with the man who murdered the woman who raised her. Shave Ice Paradise has all the ingredients of a delicious mystery: an unsolvable murder, a delightful cast of trusted friends, and an evil antagonist, with plenty of twists and turns leading to a satisfying and unexpected conclusion. 
_______________________
Available in Paperback and ebook.
*Receive 20% off when you purchase in our store
+ Free shipping on orders over $40.00 with coupon code: INDIESTRONG
Readers can order books directly from Homebound Publications & Divisions online where we have the never-ending sale. You can always save 20% on your entire order coupon code: INDIESTRONG  + free shipping on orders over $40 with .
Retailer? All Homebound Publications titles are distributed by Publisher's Group West, and are available through wholesalers such as Ingram and Baker & Taylor.
Your donations will be placed towards expanding the number of titles we are able to accept each year, giving a voice to the countless independent thinkers currently neglected by the mainstream media. Now, more than ever, your support is appreciated. 
LEARN MORE ABOUT THE GIFTS YOU GET FOR GIVING
info ‹at› homeboundpublications.com
Postal Box 1442, Pawcatuck, CT 06379-1442
Passionate about independent storytellers? 

Join the circle.

Reach out to us . . . Send an email. (GASP) Pen a letter. Reach out to an authors. Ask a question. Tell us your story . . . Donate toward our future (if you are so inclined) . . . Just reach out to us. We are a community, not a company and you are a part of that community.