On October 18th we will celebrate the release of Tinker's Damn, a collection of poems by David K. Leff. Dick Allen, the current state Poet Laureate for Connecticut reflects, "The irony inherent in how David K. Leff titled his new collection of poems is that he actually does give so much more than "a tinker's damn" about so many things. …Tinker's Damn has deeply felt poems that stand on their own yet overall its strength is in how it's so tuned to Nature. Thus, it's a very welcome addition to Leff's important previous environmental study volumes of prose and poetry. Tinker's Damn is a satisfaction, a pleasure, a series of revealing river bends."
Starting today and continuing over the coming weeks we will be releasing previews from Tinker's Damn. We invite you to enjoy this poem and share our news with the poetry lovers in your circle. And remember, if you place your pre-order in our store, you will receive your book a full 2 weeks in advance. Visit our Bookstore»
Monticello
Atop a verdant Olympus I found flesh alchemized
to masonry, glass and wood, a self-portrait with cranial
dome, blood red bricks and smiling portico columns
bleached like bone. Simple glass doors unlocked a portal
to a restless imagination cloaked as an entry hall
where a clock with cannonball weights sounded
the tick tock heartbeat of a home.
Plaster, moldings, windows and hardwood floors
seemed insubstantial against an insomnious spirit manifest
in octagonal spaces, twin doors opening in tandem,
dumbwaiters, a rotating desktop, and a turntable clothes
closet. I wasn't inside a structure so much as a vortex
of boundless curiosity, an unending project of building up,
tearing down and building again, concluded only by death.
Common man's champion, he built a well proportioned
palace in awe of ancient Roman majesty. Declaring
all men created equal, he played Pharaoh to black
slaves sweltering at brick kilns, hammering glowing
rods to nails, and aching to exhaustion in sawpits.
Sweat mixed with mortar portrayed symmetry
and elegance simmering in the master's mind.
Feeding a myopic patriotic faith I savored quiet pastoral
bloom, a blue-haze ridge view, and a serene temple
to human possibility, dreams unrealized by the dreamer.
But despite Palladian perfection as sacred as political
checks and balances, the grand building seemed to shrink
in the contradictions of construction, peering out
on a fractious country, a house divided.
*Original Photo by David K. Leff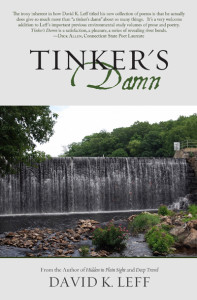 Poems by David K. Leff
ISBN: 978-1-938846-15-1 | 5.5 x 8.5 | 100pgs | Pbk
Release Date: October 18, 2013
Order through our store and we will send your book on October 5th!
About the Book: Deeply rooted in place and time, these poems explore nature, the built environment, and human relationships with an acute sense of reverence and wonder that renews the spirit. Reserve your copy»