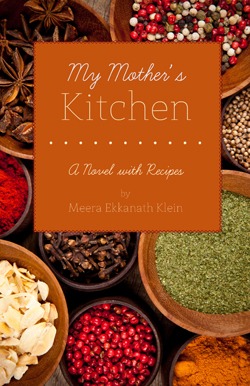 My Mother's Kitchen
A Novel with Recipes by Meera Ekkanath Klein
Finalist in the 2015 Beverly Hills International Book Awards
Finalist in the 2015 Indie Excellence Awards
Overview
My Mother's Kitchen is an enchanting place filled with promise, change and good food.  If the weathered walls of this magical room could talk they would tell the story of Meena and her childhood life. Each chapter is a slice in her young life and depicts her spunk and youthful spirit. A visit to the local Fruit and Flower Show becomes an adventure as told by Meena. Her distress at finding out about her aunt's dark secret or her joy of making a new friend are all told in her naïve, yet pure voice. Her mother is a central character in her life and it is no wonder that the kitchen is a special place of healing and rejuvenation, not only for Meena but for other characters like Kashi and Ayah.
Praise for My Mother's Kitchen
"A delicious read filled with delectable recipes."
—Padma Venkatraman, award-winning author of Climbing the Stairs
"…It's packed with insights on Indian culture, cooking and eating, and will appeal across the board…It's the smoky aromas of cooking and the culinary insights peppered liberally throughout which set My Mother's Kitchen apart from most other novels about Indian culture and experience."
—D. Donovan, Midwest Book Review
"It makes perfect sense that recipes should slip into a story about life and its richness. They do so effortlessly, as it should be. I thoroughly enjoyed this lovely book about food, culture, and family in India…."
—Deborah Madison, bestselling author of Vegetable Literacy
"Meera Ekkanath Klein brings the rich flavors and the sumptuous tastes of India to life in her first book, My Mother's Kitchen. Part cookbook, part fiction, it introduces American readers to a world rarely glimpsed in the West. …Her memories of India, where she was born and raised, lifts this book far above the ordinary. A must-read for mothers and daughters eager to try new spices, My Mother's Kitchen paints a portrait of an ancient culture of rare beauty and mouth-watering food."
—Jonah Raskin, author of Field Days: A Year of Farming, Eating and Drinking Wine in California
"…The stories, like the recipes, are soothing and healing, and like the best of folk tales, they carry a useful message for living one's life. …A smile comes to the reader's face upon realizing that compassion, forgiveness and gratitude carry the day. It is the received wisdom of the dinner table."
—William J. Drummond, Professor of Journalism, University of Berkeley
Format: Paperback | ISBN 978-1-938846-70-0 | 264 Pages | Fiction/Cooking/Multicultural
Meera Ekkananth Klein
Author
Meera Ekkanath Klein learned the art of vegetarian Indian cooking in her own mother's kitchen. My Mother's Kitchen: A novel with recipes is her first full-length novel. The book was named Finalist in the 2015 National Indie Excellence Award in the multi-cultural fiction category.  Her work has appeared in As/Us: Writers of the World and in Eternal Snow, an anthology put together by Nepalese poet Yuyustu Sharma.