Read the first two chapters of My Mother's Kitchen by award-winning author Meera Ekkananth Klein (see below). My Mother's Kitchen was named Finalist in the 2015 Beverly Hills International Book Awards and a Finalist in the 2015 Indie Excellence Awards. My Mother's Kitchen is an enchanting place filled with promise, change and good food.  If the weathered walls of this magical room could talk they would tell the story of Meena and her childhood life. Each chapter is a slice in her young life and depicts her spunk and youthful spirit. A visit to the local Fruit and Flower Show becomes an adventure as told by Meena. Her distress at finding out about her aunt's dark secret or her joy of making a new friend are all told in her naïve, yet pure voice. Her mother is a central character in her life and it is no wonder that the kitchen is a special place of healing and rejuvenation, not only for Meena but for other characters like Kashi and Ayah.
Look for My Mother's Kitchen in trade paperback and ebook on Amazon, B&N, and in your local indie bookstore!
Advance Reviews
"A delicious read filled with delectable recipes."
—Padma Venkatraman, award-winning author of Climbing the Stairs
"…It's packed with insights on Indian culture, cooking and eating, and will appeal across the board…It's the smoky aromas of cooking and the culinary insights peppered liberally throughout which set My Mother's Kitchen apart from most other novels about Indian culture and experience."
—D. Donovan, Midwest Book Review
"It makes perfect sense that recipes should slip into a story about life and its richness. They do so effortlessly, as it should be. I thoroughly enjoyed this lovely book about food, culture, and family in India…."
—Deborah Madison, bestselling author of Vegetable Literacy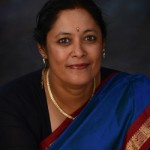 Meera Ekkananth Klein spent her childhood in south India where she learned the art of Indian cooking in her own mother's kitchen. Her first novel combines her love of cooking and telling stories. She was a newspaper reporter and columnist for a number of years before becoming a stay-at-home mother  for her two sons. Her work has appeared in The Sacramento Observer, The Sacramento Bee, The Camarillo Daily News, The Venture Star-Free Press, India Currents, and The Blue Moon Literary & Art Review.  She has had a short story published in "The Dog with the Old Soul," and her poems can be found in the Davis Poetry Project.  Currently she works part-time as an elementary school library technician. She lives with her family in Davis, CA and is busy working on her next novel.