On June 15th we announce that the collection Having Listened by Gary Whited had been named the winner of the first annual Homebound Publications Poetry Prize. On September 7th we will at least celebrate the release of this poignant book. Having Listened offers a collection of poems that speak from the confluence of a childhood on the prairie remembered and an encounter with the haunting voice of Parmenides echoing across 2500 years. These poems might draw you into your own listening places, to places unheard before, to places whose voices have been forgotten or half remembered. On this, week two of our previews, we offer you the selection,  Night Hawk's Path.
Night Hawk's Path
It happened the first time
on the dirt cow path
when I walked
behind the milk cow,
evening chore-time light
gliding across Shadwell creek
now shadowed for the night.
When I stood still,
that hum
no one ever talked about, coming
from the earth, moved
up my legs
into my hips, turning
this body into sound.
Light flared yellow,
gathered around haystacks,
fenceposts,
the cow and me.
If you enjoyed what you have read, please take note that, Having Listened is now available to pre-order in our bookstore and, like with all our books, if you pre-order through our store you will receive your book a full two weeks in advance! Visit our shop»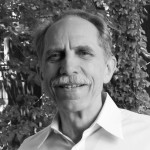 About the Author: Gary Whited is a poet, philosopher and psychotherapist. He grew up on the plains of eastern Montana, and a strong sense of place pervades his poems, whether that place is the prairie, the city or the inner spaces we inhabit. His poems have appeared in several journals, including Salamander, Plainsongs, The Aurorean, Atlanta Review, and Comstock Rewiew. He is currently working on a new translation of the complete fragments of the 5th century BCE thinker, Parmenides.