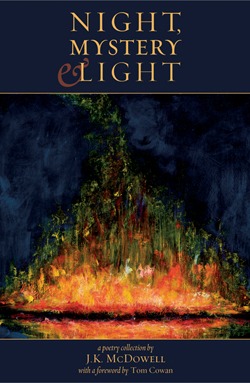 Night, Mystery & Light
by J.K. McDowell
"McDowell often ends his poems with a challenge to "Jim," a question usually asking him to make sense of his life. . . . we overhear this final question as if it were directed at us. One of the joys of reading McDowell's poetry is precisely this that his questions urge us to make deeper sense of our own lives. You will discover, along with him, the almost seamless way the ordinary and non-ordinary realities of our soul's deep dreaming support and create a multi-layered world to live in. It is a world that intrigues us while reading the poem and that lingers long after we lay the poem aside." —Tom Cowan, from the foreword of Night, Mystery & Light
. . .the sinking.
So tell me, did you pray that this day would come?
The Beloved will bring you farther and further
Than this. Make ready my Friend for the next embrace!
Early sunlight sweeps the kitchen quiet. Beyond
The window bees buzz on some flowering bush.
Footsteps come with fresh picked blueberries for breakfast.
A Gift? Here, I give you these tears from my eyes.
Sweet as dreams of Peace, quickly taste them, they dry so fast.
Elsewhere the coastline disappears without a word.
The palms touch lightly, the head bows slightly, the
Eyes close tightly. Hope does not deny that victory
And defeats are assured – Sacred battle awaits.
Careful, many of the things in your field of vision
Look back and sometimes into you. The eyes turned
Inward or outward can be doorways to the Soul.
You never told me Jim, how you chose the river rocks.
In silence Virginia filled her pockets.
Smooth, heavy, reassured for the sinking.
J.K.McDowell
Author
J. K. McDowell is a poet, an artist and a mystic celebrating the creative spirit. His poetry collection "Night, Mystery & Light" is published by Hiraeth Press.  An expatriate Ohioan, welcomed into the arms of Acadie, McDowell lives 20 miles north of the Gulf of Mexico with his soul mate who also happens to be his wife and their two beautiful companion parrots. McDowell's poems and essays have appeared in The Wayfarer published by Homebound Publications. McDowell is also an artist and appreciator of art glass.