L.M. Browning
Founder & Publisher
(L.M.) Leslie M. Browning was born in 1982. She grew up in the small fishing village of Stonington, Connecticut. In her writing, Browning explores the confluence of the natural landscape and the interior landscape. A proud native of New England, she travels often throughout the region using her photography and writing to explore the ecological and cultural identity of the Northeast.
In 2010, Leslie debuted with a three-title contemplative poetry series: Ruminations at Twilight, Oak Wise, and The Barren Plain. These three books went on to garner several accolades including a total of 3 pushcart-prize nominations, the Nautilus Gold Medal for Poetry, and Foreword Reviews' Book of the Year Award. She followed this success with, Fleeting Moments of Fierce Clarity, which was named a finalist in the Next Generation Indie Book Awards and was nominated for a Pushcart Prize.
Balancing her passion for writing with her love of learning, Leslie sits on the Board of the Art's Cafe Mystic, a poetic art's venue that has run for 17 years in Mystic, Connecticut and has featured authors who are Poets Laureate of the U.S. and winners of the Pulitzer Prize, National Book Award, and MacArthur "Genius Award." She also sits on the Board of Directors for the Independent Book Publisher's Association. With over 3,000 members, IBPA is the largest publishing trade association in the U.S. She is a graduate of the University of London and a Fellow with the International League of Conservation Writers. She is Partner at Hiraeth Press; Co-Founder of Written River: An Anthology of Eco-Poetics as well as Founder and Editor-in-Chief of The Wayfarer.
In 2011, Browning opened Homebound Publications, one of the rising independent publishers in the country. Collectively through its imprints, Homebound Publications releases between fifteen to twenty books each year. The press has almost seventy-five titles distributed worldwide. Over the years, the library has received dozens of awards including: Foreword Reviews' Book of the Year, Nautilus Book Awards, Benjamin Franklin Book Awards, and Saltire Literary Awards. Highly-respected among bookstores, readers, and authors alike, Homebound Publications has a proven devotion to quality, originality, and integrity.
"Homebound Publications is a small press with big ideas. As an independent publisher, we strive to ensure, that the mainstream is not the only stream. It is our intention at Homebound Publications to preserve contemplative storytelling. We publish full-length introspective works of creative non-fiction, travel writing, poetry, and novels. In all our titles, our intention is to introduce new perspectives that directly aid humankind in the trials we face at present as a global village."
In 2015 went on to establish Owl House Books as an imprint of Homebound Publications devoted to genre fiction. She is currently working to complete a B.A. at Harvard University's Extension School in Cambridge, Massachusetts. Her latest novel, The Castoff Children is now available. Tomm Moore, Academy Award nominated filmmaker of Secret of Kells and Song of the Sea reflects, "The Castoff Children is a lovely story of hope and the power of dreams and friendship…."
Browning has freelanced for several publications including Rhode Island Monthly, New Haven Magazine, Coastal Connecticut Magazine, Edible Nutmeg, and The Wayfarer. Recognized for her in-depth profiles, as an interviewer, Browning is known for her genuine desire to connect with her subject and the insightful questions she composes to delve into the mind of those with whom she speaks. She has interviewed dozens of notable figures such as Academy Award-Nominated filmmaker Tomm Moore, Peabody-winning host of On Being Krista Tippett, Emmy-winning Filmmaker Alan Cooke, Sandy Hook mother Nelba Márquez-Greene.
Visit her at www.lmbrowning.com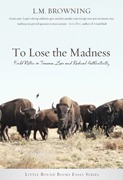 To Lose the Madness
by L.M. Browning
Forthcoming April 10, 2018