Our Spring 2016 Titles
Enjoy a preview of our 2016 spring titles. Pre-order all the titles in our bookstore.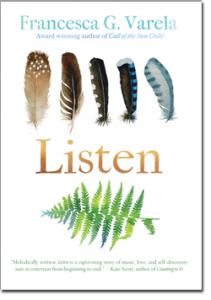 Listen
by award-winning author Francesca G. Varela
Now Available | Order in our Bookstore»
May is a piano-genius college freshman who dreams of becoming a brilliant composer. In her school's practice rooms she meets Conner, an undeniably unattractive junior, and she is immediately captivated by his raw musicality on the piano. As May tries to navigate college life and fulfill her music dreams, Conner pulls her toward the natural world, toward her own wildness, and, ultimately, toward the wildness within her music as well.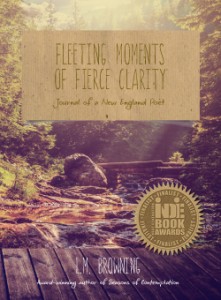 Fleeting Moments of Fierce Clarity
Journal of a New England Poet by L.M. Browning
Finalist in the Next Generation Indie Book Awards
Second Edition | Order Today»
"This generation's New England  Transcendentalist." — Frank Owen, creator of Bodhiyatra Poetry
"Thoreau, that great New England saunterer who serves as one of the inspirations for L. M. Browning's new book, advised never to underestimate the value of a fact, for it one day might flower into a truth. Facts flowering into truths are what one finds on every page herein. Browning's gift is to see the miraculous in the commonplace, and readers will leave her poems and journal entries the wiser and more human. This is no small gift." — Philip F. Gura, author of American Transcendentalism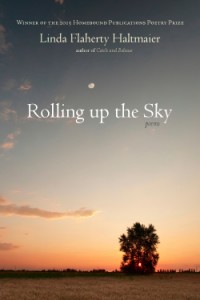 Rolling up the Sky
Poems by Linda Flaherty Haltmaier
Winner of the 2015 Homebound Publications Poetry Prize
Forthcoming April 5, 2016 | Pre-Order in our Bookstore»
"When Linda asked me to read Rolling up the Sky, I almost said no. I'd rather not have to tell someone I can't endorse their heart's work, so I usually plead busyness. Thank god I said yes! What a world Linda opened up to me–-a universe of good mothers and wily bullfrogs, of fifty ton graham crackers and dementia turned beautiful: so many glimpses of the beyond. Like all good poetry, her poems remake you into something far bigger than your everyday self." —Jennifer Louden, best-selling author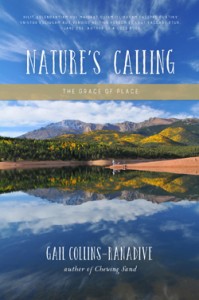 Nature's Calling
The Grace of Place
by Gail Collins-Ranadive
Now Available | Order Today»
Steeped in the faith tradition of the American Transcendentalists (the majority of whom, like Emerson, were Unitarian ministers) the author's own spiritual life was likewise grounded and guided by nature. So of course she said yes to a career in interim ministry that would require her to relocate every summer.  What would each new landscape, from Nevada to Vermont to Colorado to Arizona to South Carolina to Maine, have to teach her spirit? After all, there was more to learn from nature than could be found in New England, wasn't there?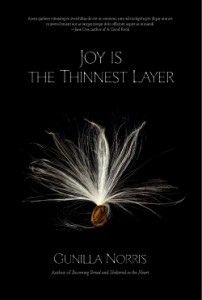 Joy is the Thinnest Layer
Poems by Gunilla Norris
Forthcoming April 5, 2016 | Pre-Order Now»
When the heart is touched it wants to sing songs of recognized experience. Call it poetry for then image, cadence and word melt together as one. This book of poems is about such experiences. That depth of feeling encompasses both desolation and consolation and so brings the reader close to the pulse of life, to joy, the thinnest layer.