Painted Oxen
Available Wherever Books are Sold Including
Pbk: Amazon • Barnes & Noble • Indiebound.org
eBook: Kindle  • Kobo (Walmart ebook)  • Nook  •  AppleBooks
*Shop in our store. You will save 20% off your entire order with coupon code INDIESTRONG. In addition, you will support the ideas and culture beyond the mainstream!  
Plus, as always, you'll receive free shipping on orders over $40.00
Overview
Two men, three realms, one goal: to find the heart of the world. 
Painted Oxen is a novel of transcendence, one that not only invites its readers into its story, but somehow enmeshes them in its alchemy, leaving them changed in unexpected ways at its journeys end. Bridging the worlds of ancient Tibet and modern-day India, Painted Oxen weaves a tale of two men—one young, one old—on parallel journeys. Their separate-but-connected pilgrimages are equal parts internal and external.
The old man, a Tibetan monk, is searching for a sacred hidden valley known to bring enlightenment to those who enter it. The young man is backpacking through India, searching for a guru or the love of his life; he doesn't care which. A mysterious red-haired woman who resembles an ancient goddess appears in a series of dream chapters that tie the two journeys together.
The underlying theme of the novel is the transformation of the human heart, which is required to arrive at any true change in our lives. With its authentic voices, unforgettable characters, and well-crafted story, Painted Oxen successfully bridges the worlds of literary and spiritual fiction, adding something new and authentic to the literary landscape.
Praise for Painted Oxen
"Who is the teacher? Who is the student? Who is the traveler? Who is the guide? Surrender yourself to this well-traveled tale, with its spices and sounds, bustling streets and windswept high mountain passes. Amidst the shifting faces, dreams, times, and places, a multidimensional tapestry of lessons unfold. When you begin, you are a greenhorn; a fool on a search. By the end, a change occurs within heart-mind. Painted Oxen is literary alchemy, but the journey won't end when you put the book down."
––Frank LaRue Owen, author of The School of Soft-Attention
"Lit by ancient starlight, we follow Thomas Qualls along the sacred river through the heart of India. Reminiscent of Kerouac's On the Road, we meet fellow travelers seeking transformative knowledge, mercy and grace. Painted Oxen entertains, informs, and delights."
––Mark Daniel Seiler, Award Winning Author of River's Child and Sighing Woman Tea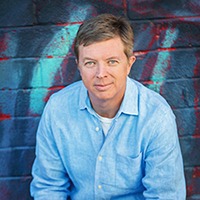 Thomas Lloyd Qualls
Thomas Lloyd Qualls is a writer, a condition that is apparently incurable. He lives and writes in the high desert beauty of Northern Nevada, along with the children's author, Lynell Garfield, and their son August. He is a former copywriter, a licensed attorney who has overturned two death sentences, and a one-time vagabond who regularly wandered the globe with a backpack and three changes of clothes.
Thomas is also the co-creator of several video storytelling projects and the former owner of a music festival, as well as a sometimes painter and a contributor of words to Rebelle Society, Wild Heart Writers, and Reno Tahoe Tonight Magazine.
With all these projects, he seeks to build bridges between people and to foster positive curiosity about each other and this beautiful crazy world.
You can follow his trail of words and his other misadventures at www.tlqonline.com.